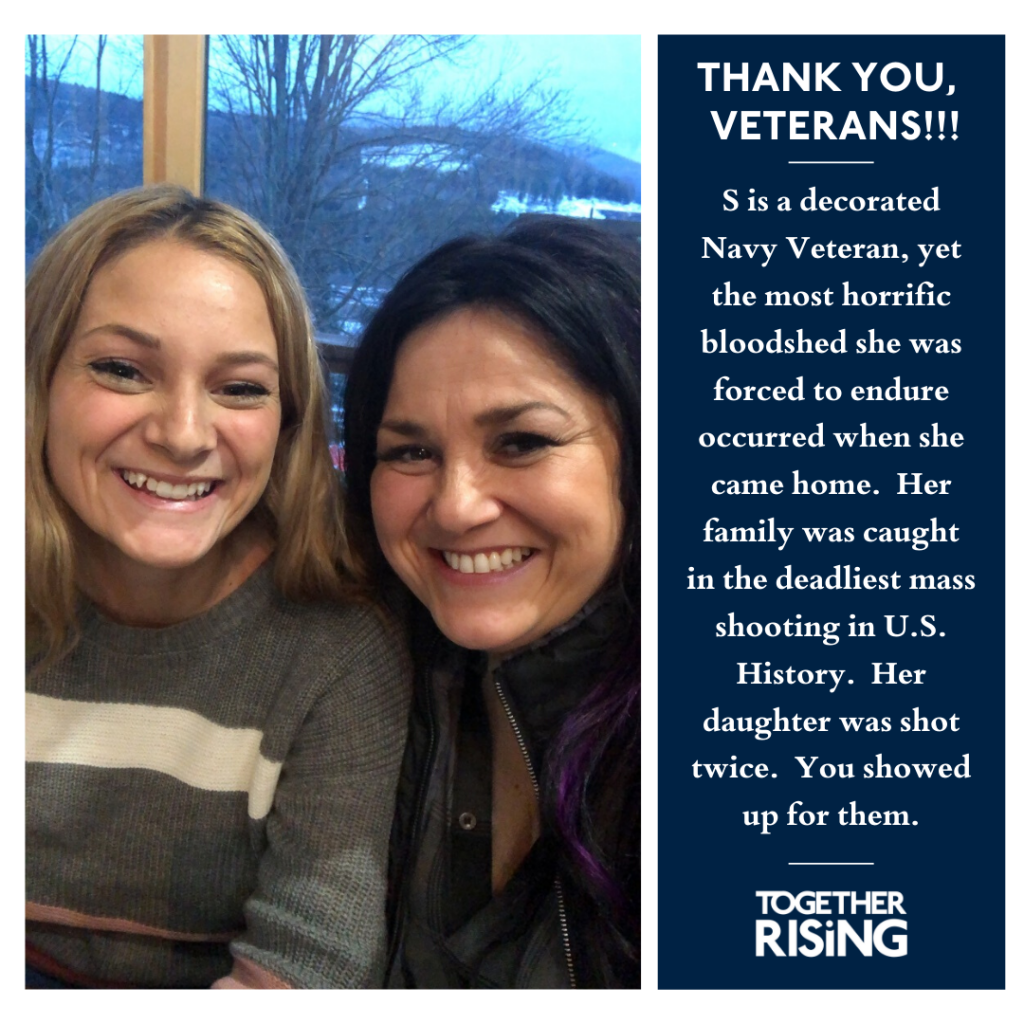 This week, we're introducing you to some of the incredible Veterans you've stepped up for, providing support to homeless and at-risk veterans and their families in Nevada through Together Rising's work with the Kline Veterans Fund.
S is a 48-year-old and a single mother of two. She is a decorated Navy Veteran, yet the most horrific bloodshed she was forced to endure occurred when she came home.
Upon her return from service, she and her kids were enjoying family time together at a music festival in Las Vegas when they were caught in the deadliest mass shooting in U.S. History.  Her daughter was shot twice.
Although her daughter survived, S was traumatized -- suffering from severe PTSD and depression -- she missed work, and lost her job.  Because her PTSD was deemed not service-related, she is not eligible for VA benefits. Without an income, she was unable to pay her rent and received a 5-day eviction notice.
That's when you stepped in. Within 48 hours, through our work with the Kline Fund, you were able to hire movers, secure a truck, rent a storage unit for S's belongings, and settle her into a safe and secure temporary apartment. One week later, you secured a zero-deposit arrangement and paid for two months of rent to allow S time to get back on her feet.
Incredibly -- because of her heroic determination -- S secured employment within one month, and is now able to pay her rent and utilities without assistance. She is also working with a mental health counselor.
We love and are in awe of this amazing family. What they have endured, after her heroic service to our country, is unspeakable. We are honored to stand with and for them.
And we are beyond grateful TEAM LOVE -- whose monthly donations of $5, $10, and $25 to Together Rising make investments in incredible people like S possible. When the world doesn't make sense, together, we can make it better.  You can join TEAM LOVE through a monthly donation at the link in our bio.