Middle East Children's Alliance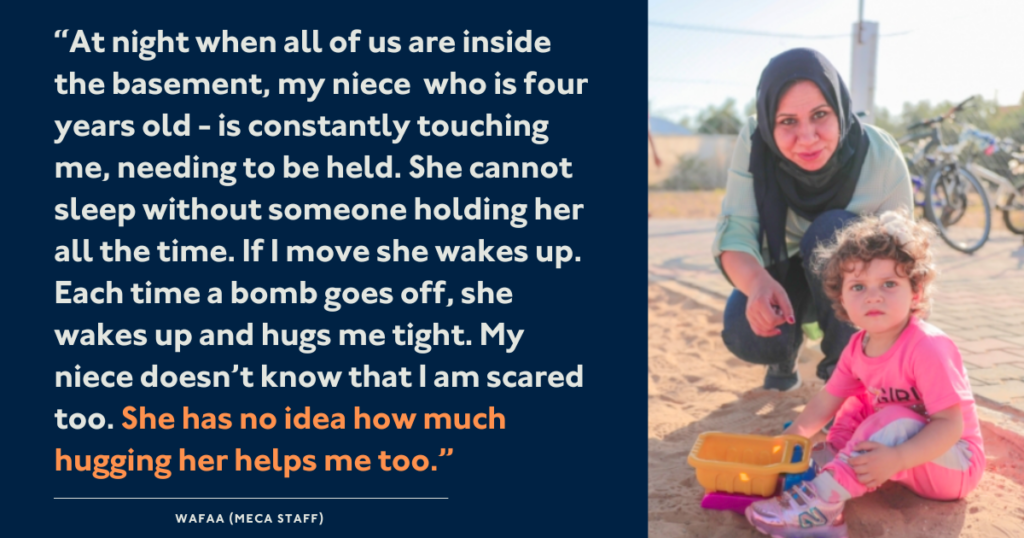 Thousands of human lives have been stolen – human beings with favorite colors and school crushes; human beings who had just learned to walk or just tasted their first watermelon;  human beings who were on their way to celebrate an anniversary or meet their new grandchild – just gone.
What do you do when the world is terrible and overwhelming?
You try to get closer. One person at a time.
This is Wafaa, a team member of Middle East Children's Alliance (MECA), one of our most recently funded partners.
Wafaa has made the decision to risk her life by staying in Gaza so that she can provide care and relief to her community. Her home in a refugee camp is intended to hold a maximum of six people, yet she is currently sheltering 60 members of her family and community, mostly children.
When we spoke to Wafaa last week, she described the horror of daily life: "It's worse than what you see on TV. Every day, you don't know if you will live through the night."
She is scared. And, as Nutrition Coordinator at MECA, her commitment to serve her community is greater than her fear: "Our partners and volunteers in different areas of the Gaza Strip want to support their communities. Despite the danger, they want to do this work because they know the people are in need."
MECA's team and partners in Gaza are procuring food and hygiene supplies from stores, warehouses, factories, and farmers, and despite the very real risk to their lives, they are delivering them to displaced families every single day.
To date MECA has delivered:
– Food parcels to 152,000 people with essential food staples, clean water, and even fresh produce & poultry
– Hygiene kits to 102,500 people with toiletries, toilet paper, diapers, and menstrual products
– 2,500 blankets to displaced children
– Funds to three hospitals in Gaza to purchase emergency supplies of fuel for their generators
– A grant to one hospital to purchase additional medicine and medical supplies
Together Rising has invested $300,000 this month in MECA so that Wafaa and her team can continue to provide food, warmth, and comfort to their community. One person at a time.
Photos provided by MECA