We can both give support and gain support in this community—a truth so wonderfully illustrated by this story of how Mirabella gained independence and transportation to visit her mother and beyond because of her new mobility bike that all of us delivered to her in Finland through Together Rising.
Mirabella is a disabled woman and former chef who lives in Finland. She takes care of her mom, who has Parkinson's disease as well as additional illnesses. Before the pandemic, Mirabella depended on the public bus system for transportation. She'd take four different buses to deliver medicines to her mom, who relied solely on her. Unfortunately, the buses didn't run on the weekends. Then the pandemic hit and threatened to disrupt the bus service altogether.
Mirabella was confident in what would give her independence—a mobility bike. A friend had let her borrow a loaner bike for a while. The loaner had provided transportation to her mom's house—and beyond—whenever she needed. Eventually, however, the loaner had to be returned.
While she knew she'd benefit greatly from another bike, Mirabella couldn't afford to buy one. She wrote to us to ask if we'd support her request for a bike of her own. We said yes of course we will—this community, all of us through Together Rising, will deliver your bike.
And there it arrived, right on her doorstep. Look at her beaming smile!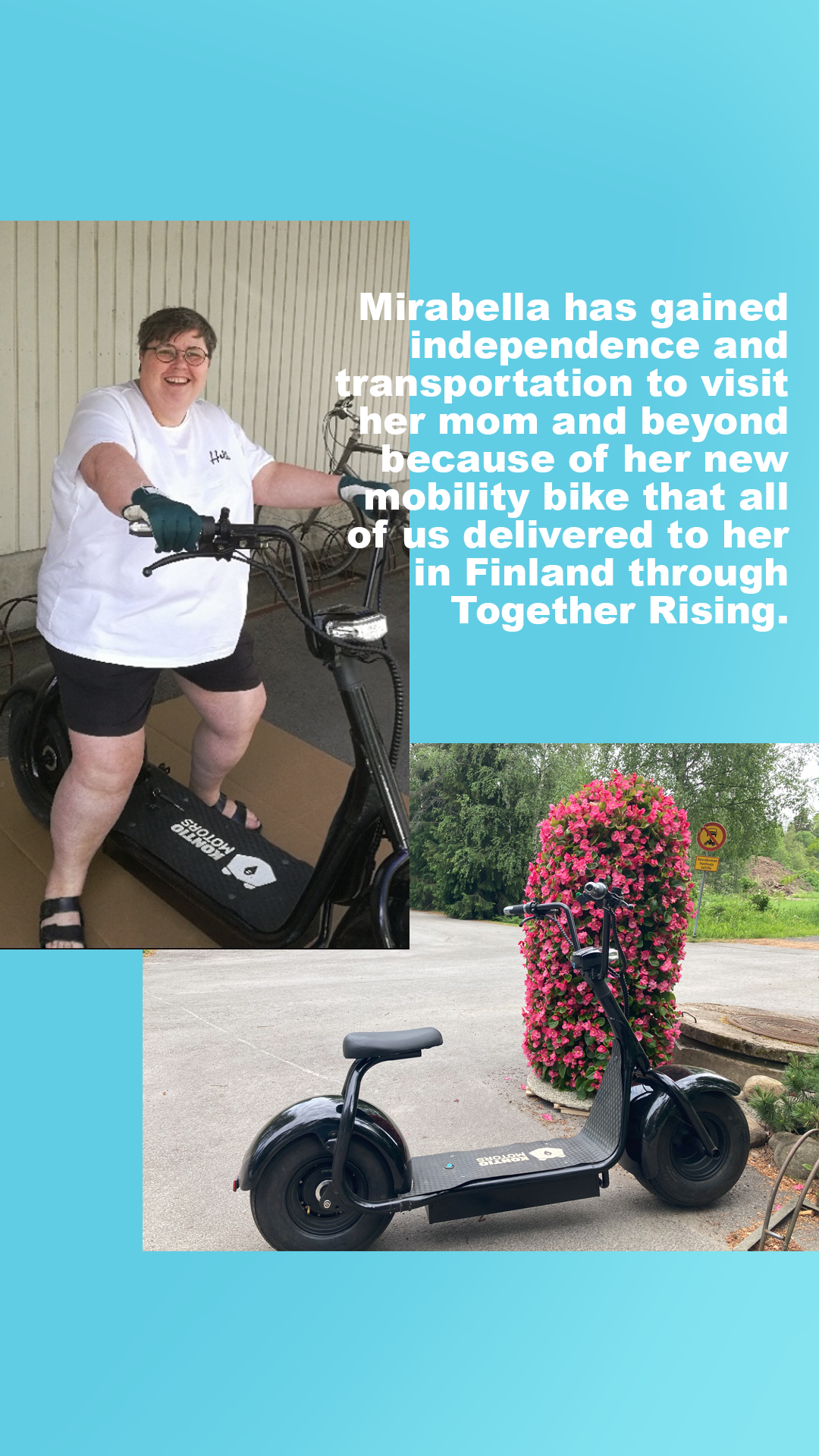 Mirabella had been a monthly donor to Together Rising in previous years. When we asked her if we could share this story with you, she said, "I've always loved the stories when I have seen them in social media. Never did I think I would be one of them one day."
How beautiful is this community—a collective that enables all of us to give support when we can and gain support in times of need?
It's stories like Mirabella's that make us pause to marvel at how impactful it can be to support another person. This big, chaotic, stressful, unjust world will keep spinning, but we—all of us together—did something to change another person's world.
Let's always be the people that change each other's worlds, together and forever.
Note: Name has been changed to honor requested anonymity.