More than 4,173 of you raised $369,978.60. THANK YOU.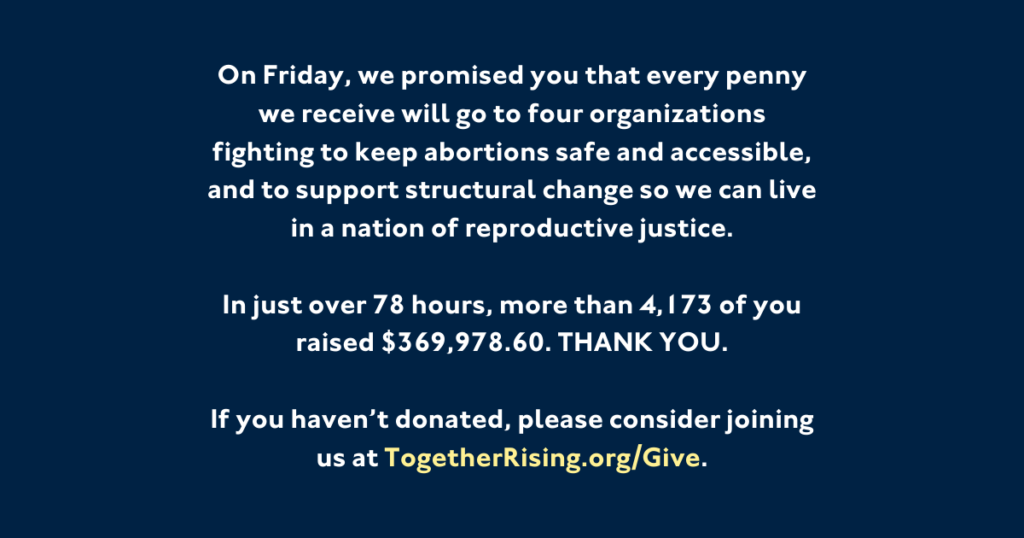 On Friday, we promised you that every penny we receive will go to four organizations fighting to keep abortions safe and accessible, and to support structural change so we can live in a nation of reproductive justice.
More than 4,173 of you have raised $369,978.60. THANK YOU. If you haven't donated, please consider joining us at TogetherRising.org/Give.
We are supporting:
Led by a Black, queer woman, SisterSong is a preeminent leader fighting for reproductive justice. Focused on structural change, they elevate the "collective voices of indigenous women and women of color to achieve reproductive justice by eradicating reproductive oppression and securing human rights."
By providing transportation, childcare, lodging, and meals, New Mexico Religious Coalition for Reproductive Choice is helping women and people in need of abortions overcome barriers to accessing that critical healthcare. Bordered by states that have trigger laws or bans that have gone into effect, they are filling a massive gap in access in the southwest.
In dire need of funding, Indigenous Women Rising is an Indigenous and queer-led reproductive justice organization that helps Indigenous women and people access safe abortion care throughout the United States. According to RAINN, Indigenous women are more than twice as likely to experience sexual assault than white women. The Indian Health Service only provides abortions in cases of rape or incest—which must be reported within 60 days—or if the pregnant person's life is in danger. The gap in access that Indigenous Women Rising is filling is tremendous.
With nearly all abortions now banned in Missouri, Missouri Abortion Fund's providing financial assistance to Missourians who cannot afford the full costs of abortion care is more important than ever. Despite being surrounded by states with trigger laws, Missouri Abortion Fund will continue to help women and people access safe abortions. In their own words:  "We aren't going anywhere."
Join us by donating at TogetherRising.org/Give.