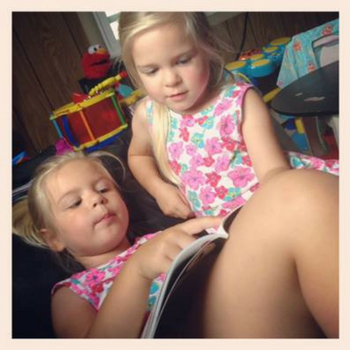 Denise's hero is her warrior daughter, Jennifer. Several years ago, Jennifer developed psoriatic arthritis, a painful and debilitating auto-immune disease. She has lived with constant pain ever since.
Denise told us that Jennifer unexpectedly became pregnant with twins. "She was an extremely high risk case and had to go on disability. She was on bed rest for the remainder of her pregnancy, which ended with emergency c-section 2-months premature. Her girls had to stay in the neo-natal intensive care unit for 31 days. From day 3 her daughter, Emma, was diagnosed with PVL, but later on it was determined that she suffered a stroke in utero. All the while, Jennifer was suffering from severe high blood pressure and could have suffered a stroke herself."
Each of those days, Denise drove her daughter to the hospital, so she could take care of her own daughters. Meanwhile, the company Jennifer worked for closed and left her without a job. Her insurance was terminated.
Things with Emma have continued to be challenging. She has cerebral palsy.  Denise said, "Jennifer never takes no for an answer when it comes her girls, she truly is a hero giving these girls her all so they have all the proper treatments and medical care necessary. She brings happiness and joy to her girls and will never let anything interfere with her goals for her children. She never ceases to amaze me with her patience!"
After a particularly tough day, our note enclosed with a gift card found its way to Jennifer.  A short time later, a card from Jennifer to Glennon and Together Rising returned.
"When I opened that letter, I cried. I cried because it was just what I needed to hear. It was that little bit of hope that I needed to keep me going (at least to bed time). It was hope that I will eventually get a break; it was hope that I can use that money for a babysitter so I can find some time to just sleep, to just breathe. Timing is everything, and on Wednesday it was exactly what I needed. So thank you. Thank you to my mom. I would be forever lost if not for my rock, my mother. You talk of your sister like breathing that is my mother for me, even more so now that I have a child with special needs. TogetHER RISING is amazing organization, thank you to all who contributed. Means more than you will ever know, truly."