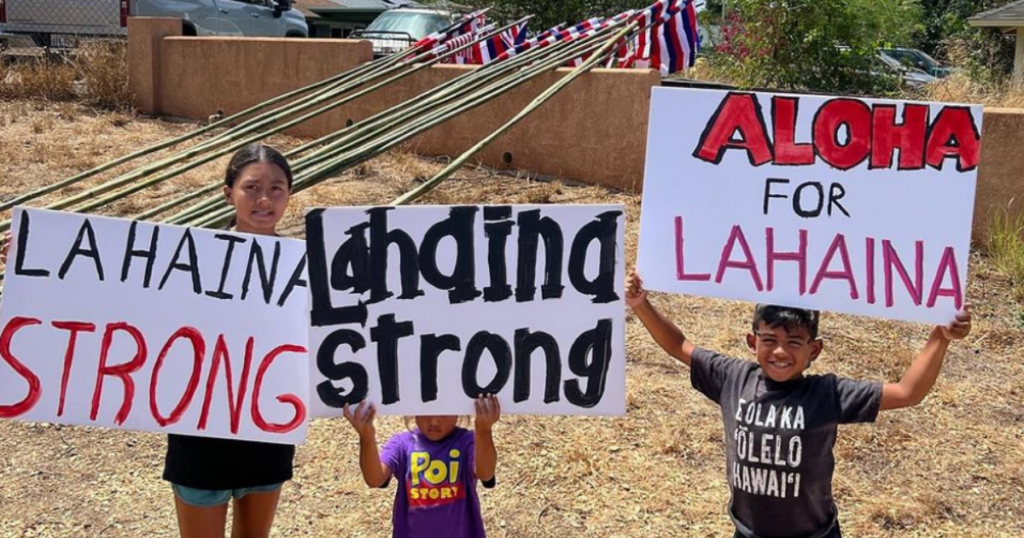 A member of the Together Rising community recently asked us how we find organizations to support, especially when we respond to natural disasters like the wildfires in Maui. Sometimes we find organizations through our own research, and other times, they come recommended to us. In either case, we rely on our Diligence team to quickly research and vet prospective organizations to identify partners with a proven history of boots-on-the-ground impact.
With the Maui wildfires, this process led us to Nā Kama Kai, a Native Hawaiian-led organization that normally operates as a youth ocean conservation and environmental organization, but that quickly pivoted to respond to the wildfire crisis. Nā Kama Kai is helping to meet the moment by addressing the immediate needs of folks on the ground in Lahaina and by continuing to assess and support ongoing needs, including housing for families and disabled people.
According to Natalie, the lead for the Diligence Team at Together Rising, "We seek out the "hidden gems" – those smaller organizations that are on the ground daily and representative of the people they serve. Nā Kama Kai shines as a Native Hawaiian-led organization that sprang into action immediately – connecting directly with those in Lahaina to understand the most current, pressing needs."
Sami, the Diligence Team Associate at Together Rising also shared, "I loved Nā Kama Kai because this organization exemplifies what it means to be deeply embedded in the community. Founder/CEO Duane DeSoto and his team utilized contacts in Lahaina, greater Maui, and the other Hawaiian Islands to assess specific needs and distribute to fire-impacted families efficiently in their time of unimaginable grief and trauma. They continue to lead with Native Hawaiian values that honor connectedness to each other and the land and sea Kānaka Maoli have beautifully stewarded for millennia."
We are grateful for the support that Nā Kama Kai is providing to the Maui relief efforts. At Together Rising, we believe in, "by us, for us", and Nā Kama Kai exemplifies organizations that are meeting the needs of their communities.
Thank you for helping further their efforts through your support.