Name and gender marker changes for transgender and gender-diverse people in Alabama via Magic City Legal Center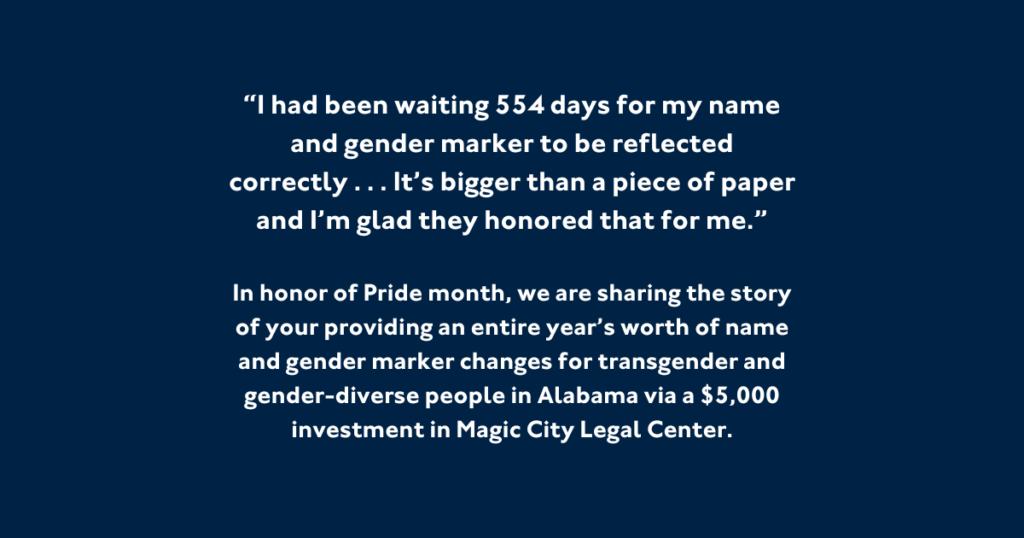 "I had been waiting 554 days for my name and gender marker to be reflected correctly . . . It's bigger than a piece of paper and I'm glad they honored that for me," said a client of Magic City Legal Center.
Transgender and gender-diverse people continue to be under attack throughout this country. Amid a myriad of systemic barriers that make it harder for them to live as their authentic selves, changing one's legal name and/or gender marker continues to be a difficult process to navigate, especially alone.
That's where Magic City Legal Center steps in.
Led by transgender attorney Sydney Duncan, Magic City Legal Center guides transgender and gender-diverse Alabamians through the legal process of changing their name and/or gender marker, ensuring they receive trustworthy support every step of the way.
Earlier this year, their team wrote to us here at Together Rising. They indicated that what they needed most was funding for name and gender marker change filing fees.
"It seems unfair that $100-200 is what is keeping a person from living as their authentic self," they wrote.
The Magic City Legal Center team also shared that the demand for their services was massive—and was growing day by day. Yet, due to the lack of funding, they were limited in the number of people they could assist. They were being forced to triage their applicants, prioritizing those in the "most dire" of situations.
Until we stepped in.
Together, all of us in this community said: "We will cover the cost of name and gender marker changes for all of your clients this year. Every single one."
Because of you, dozens and dozens of Magic City Legal Center's clients will get to change their names and gender markers—and feel supported throughout the process.
TEAM LOVE, our community of monthly donors, is the lifeblood of Together Rising. They make grants such as this one to Magic City Legal Center possible.
To TEAM LOVE: THANK YOU!
In honor of Together Rising's tenth anniversary, we are striving to reach 10,000 monthly donors on TEAM LOVE. Could you or someone you know use the dose of hope this community offers? Join TEAM LOVE or share TEAM LOVE.