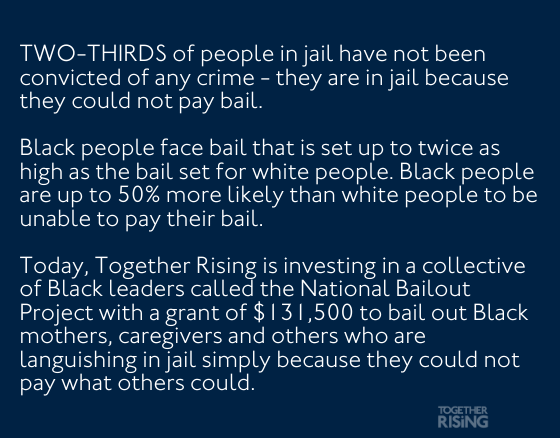 A foundation of the US Constitution is the principle that we are all innocent until proven guilty –that the government cannot take away our liberty unless we are convicted of the charges against us.
Due Process is guaranteed by our Constitution, but in practice, it is only available for those who can pay for it.
TWO-THIRDS of people in jail have not been convicted of any crime. 95% of recent jail population growth consists of people who have never been convicted.
WHY? Because the US's cash bail system — dominated by commercial bail bondsmen — means the majority of people in jail are there simply because they are too poor to make bail.
Black people are up to 50% more likely than white people to be unable to pay their bail and be held in jail pretrial.
Judges impose bail on Black people that is up to twice as high as bail set for white people.
Women who are held in jail pretrial are facing bail amounts roughly equal to their annual income — $10,000.
Those detained pretrial are more likely to: plead guilty/accept plea deals, be sentenced to incarceration, and receive sentences that are longer than those who get out on bail.
Dozens have died in jail while facing charges such as traffic offenses or probation violations.
Kalief Browder, a Black 16-year-old accused of stealing a backpack, spent 3 years at Rikers Island, having never been convicted of a crime — all because his family could not pay. He later died by suicide.
At Together Rising, we believe that people should not be caged simply because they cannot pay.
The question of whether you languish in jail or whether you don't should not be: Do you have enough money?
We believe -- right now, in the time of pandemic and overcrowded jails– that being poor should not be a death sentence.
And we stand in defiance of the over-incarceration of our Black siblings.
Today, Together Rising is investing in a collective of Black leaders called the National Bail Out, with a grant of $131,500 for bail and vital necessities for Black mothers, caregivers, and others who are languishing in jail simply because they could not pay what others could.