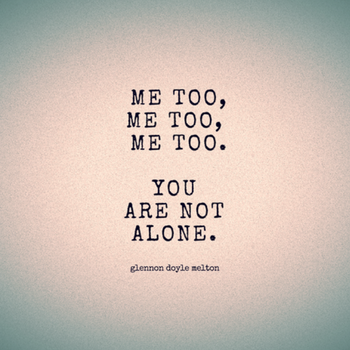 Through your donations, Together Rising meets a variety of physical needs for members of our community. We do this both through our large fundraising events, like Love Flash Mobs and Holiday Hands, and through our year-round giving program.
But for many members of this community, money can't buy what they desperately need – emotional support from their fellow sisters and brothers lifting them up with words of encouragement. In the midst of struggle and pain and loneliness, they need to know that they are not alone. To hear others say – you got this, you are strong, you can survive this, I am here.
A few years ago during Holiday Hands we started to receive requests to help meet those needs. Letters for a child who feels lonely, rejected, and sad.  Notes of support for kids whose dad is battling cancer. Words of encouragement for a mama of three kiddos with special needs who feels alone. Pen pals for a lonely stay at home mom.
The responses have been breathtaking.
And since this need doesn't just creep in around the holidays, Together Rising has started to post them year-round, so that we all have the opportunity to rise up and be an emotional safety net for our sisters.
Recently we received a request for support from a brave warrior who is both in recovery and raising a teenager with special needs. Moira wrote that while her family is not in financial need, "the past five years have been a HUGE roller coaster. In the midst of this I stay abstinent and sober as I will do whatever it takes to keep my recovery on track."
After two moves they are currently living with her elderly parents, and she feels the tug of meeting both their needs and those of her 13 year-old daughter who is fighting her own battles with ADHD, Sensory Processing, and OCD.
Moira reached out to our community for help, requesting "a hug and prayers, especially from similar moms." She received words of encouragement and understanding from women who could identify with her struggles because they also have special needs kids or are in recovery.
Monica wrote, "Beloved Moira, The life of a mother of a child with special needs is definitely one that makes you weary… You are doing a great job! Give yourself the credit you deserve… I am sending all my hugs, love, care, and positive energy to you. Don't ever forget the beautiful work you're doing with your life. As a mother of a special needs child to another, you are amazing! Don't forget it. You were called to this. God knew you were just the right person for your daughter. I'm here with you. I feel you and understand your feelings. You are not alone!"
Anny-Lyse wrote, "Congrats on your job and sobriety. You are role model. Many people would crack under pressure and go down the 'easy path' but not YOU. You are amazing. Taking care of your parents AND your daughter must be exhausting for sure. You are a hero. And so is your girl who maintains good grades in school while learning to manage her uniqueness."
Robin wrote, "From one sober mom of special needs children to another—you are not alone. You have an especially important role to play in this life, one that I believe is given to the most courageous and big-hearted mommas:) Just by virtue of being fully present, you have given your daughter the greatest gift and all of the tools she will need to navigate life successfully, despite her challenges. I know how hard and long the days can be, how sometimes you just need someone who understands. You and your daughter are in my prayers."
In the past several months we have received over 100 requests for letters.
– Luke is a college student coming out to his conservative parents who are southern ministers.
– Lori has struggled "to get to the other side of a lifetime of accumulated trauma and alcoholism/addiction (sober 35 yrs)" and feels alone after receiving a potentially life-threatening diagnosis.
– Katie has a missing place in her heart as she has struggled for years to get pregnant.
– Lauren is a recent college graduate who spent 23 horrifying years as part of a sex trafficking ring and is suffering from depression and PTSD as she is trying to move forward with her life.
– Wyatt is a second grader who "is believing that he is not a good person, worthy of love and friendship. And that there is no hope for him in this world. And that all of the confusion and frustration going on inside cannot be fixed."
One of the most beautiful parts of a community is being able to come together and lift each other up in times of need. Do you need words of encouragement? Our community is here for you. Do you have encouragement to give? Your community needs you.
To post a request to receive letters click here https://togetherrising.org/holidayhands/create-a-holiday-hands-listing/ and select the "Together Letters" category.
To leave a letter of encouragement click here https://togetherrising.org/holidayhands/the-holiday-hands-project/browse-listings/ and select the "Together Letters" category.
When she rises, we all rise.