Family Strong – Raquel in the Middle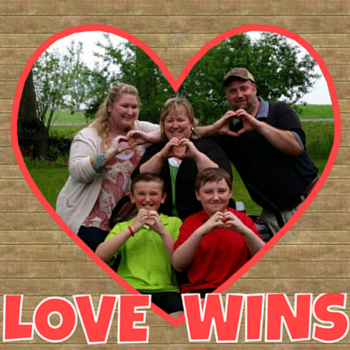 Friends, meet the O'Brien family. Look at this beautiful group! Mom, Raquel, is the one right in the middle. This is fitting, because, as her daughter Felicia wrote in to tell us, Raquel is a shero. She has stood firm in the middle of her family, holding it together through sickness and heartbreak.
Here is how Felicia introduced us to her mom and dad:
"She experienced unspeakable trauma at an age when girls should be protected and cherished. She had to grow up and mature far too early. At a time when she should have been worrying about school and friends, she was raising her five younger siblings. For a girl to become pregnant as a teen, while living in a residential placement home, and to decide to keep the baby is very brave. For that girl and that boy to learn how to love, when their parents did not teach them the skills necessary to do so, is a miracle. For that couple to marry, create a family, make a home, and remain unconditionally in love 28 years later is nearly unheard of. The childhood trauma endured by this couple would bring tears to your eyes. How a person can intentionally harm a child, I still do not understand. How a child can overcome this trauma and become so nurturing, giving, accepting, and compassionate toward others, well, this is how I know that faith and love are real. My parents chose to keep me. At 15 and 16 years of age, they created the family they dreamed of. I had the privilege to grow up feeling secure, protected, and loved by my parents."
Life has not been easy for Raquel and Tim, but they have faced it together and they have raised their family strong. We asked Felicia what would help her parents the most—what she would love to do to recognize and support her mom. Felicia told us that because of disability, it was really hard for her parents to take care of their yard, and having a riding lawn mower would make life much easier for them.  Thanks to a discount from Midwest Machinery, we got Raquel rising by getting the family mowing!