Together Rising & Refugees in Europe
An update on Together Rising's work with refugees in Europe, written by Glennon Doyle Melton and originally posted on Momastery.com:
You've noticed I've been quiet lately.
That's because two months ago, you trusted Together Rising with hundreds of thousands of dollars to help refugees in Europe.
After the Love Flash Mob, Amy led us as we spent our days and nights researching, interviewing and planning to ensure that how we spent the money would be worthy of you and of our refugee brothers and sisters. It has been a hard few weeks. Every day we have been freshly stunned and brokenhearted by what we've learned, seen, and heard. And that's good. When my heart is truly broken, I feel low, abiding joy. Because I know I've stumbled onto something worthy of my time, energy, money, and life.
People always ask: G, how do I find my purpose?
I look at them and ask: What breaks your heart? There you go. That's your purpose.
The first draft of this essay was six pages long — filled with stories about the children who are dying and the heroes we have met. In the end, we decided to keep today's report concise. Please know that we did not make a move without hearing directly from the aid workers and refugees in each area. We assumed nothing: we listened, learned, and then responded with great care and great love.
We hope and pray you will find our efforts worthy of our Love Revolution.
GERMANY:
Our contact here is Ann — the fierce, brilliant midwife working on the ground with the refugees. From Berlin, Ann and her team watched our Love Flash Mob unfold in real time: They cried with hope and joy and wonder. They kept writing this to us: We can't believe it. We can't believe these Americans care so much. Ann told the women she cared for — women spending their days in a park and sleeping in emergency shelters — about you. She said: They want to know what you need most. They want to know what will help. The refugees' answer was repeatedly: strollers and warm clothes. Strollers and warm clothes. Strollers and warm clothes. We want to keep our children warm and safe.
You sent $20,000 worth of strollers to Berlin for Ann and her trusted colleagues to distribute to families. The strollers arrived this week, and each family receiving one will also get a card from us — letting them know that we see them, that they are not alone. And we're sending $10,000 to help fund an emergency shelter for women and children run by the Lutheran and Catholic church.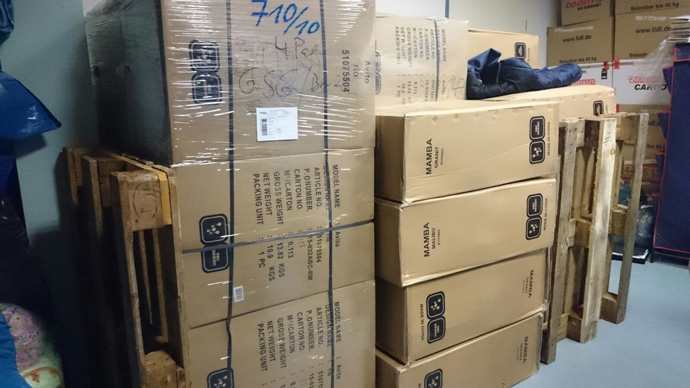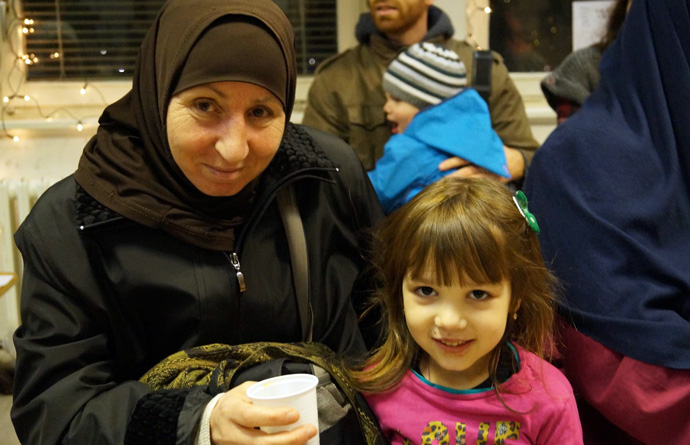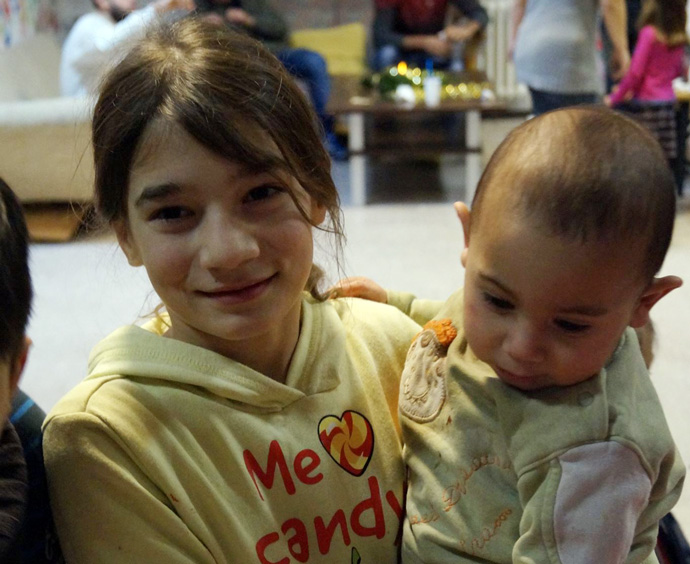 Amy called Patagonia to negotiate good prices on warm clothes for the refugees. Patagonia said: WE WANT TO HELP. But we will not take your money. We'll do what we can just because the children are cold and we can help them. And then they arranged to deliver $30,000 dollars worth of warm winter gear for refugee families.
Here's our Ann with a little one you are keeping warm!
SERBIA:
Our contacts on the ground here are CWS, who, along with the Red Cross, are providing emergency food, shelter, and first aid at a checkpoint for refugees traveling on foot. They told us that what traveling families request most often are baby carriers.
Your Love Flash Mob money bought $50,000 worth of baby carriers, hygiene kits and custom care packages for mothers in Serbia. Along with a personalized note of encouragement, each custom care package contains a shawl, caps, winter boots and socks for women and children. You will reach 3,000 families with this gift. Because of you, babies will be held close to their parents' hearts as their families continue to walk on to safety.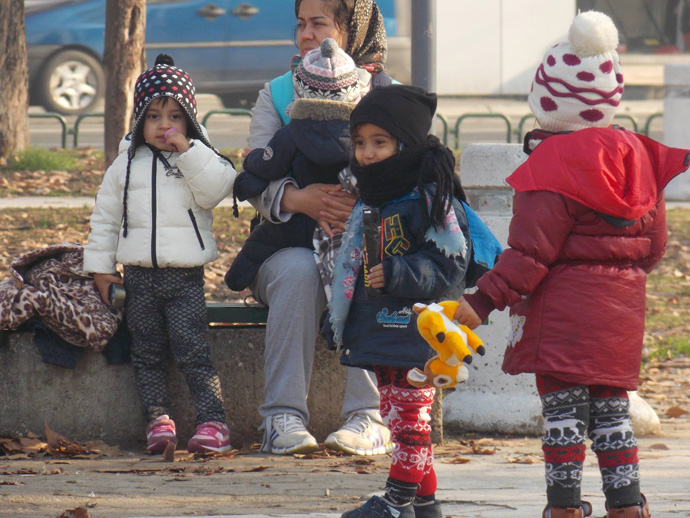 FRANCE AND THE GREEK ISLANDS:
To reach the refugees arriving onto the Greek Islands, we connected with the group Help Refugees. Dani Lawrence, one of Help Refugees founders, wrote to us about how the organization got started:
Dear Glennon,
At the beginning of this September, having seen images of the makeshift refugee camp in Calais France, I planned to load my car with supplies from Costco and drive them over myself. As a mother of three young children, the shocking images of three-year-old Aylan Kurdi, the Syrian toddler who drowned on the beach in Turkey made the horrific situation all the more real and urgent to me here in London.
And so we became an 'accidental charity'. We created an Amazon wish list and began receiving up to 7000 packages a day. We now work tirelessly and voluntarily to fundraise, writing articles, crowd-funding. With the help of incredible contacts on the ground we support many projects in Greece and Calais, we pride ourselves on being able to react quickly and get aid where it's most needed within hours.
We spoke with the founders from Help Refugees, investigated their organization, vetted each one of their members. They guaranteed that 100% of the donations they received from us would be spent directly on refugees. Finally, when we felt confident that they were the right partner to trust with your funds – we asked them to send us a list of the refugees' greatest needs. After a week of board collaboration—we sent them this letter:
Dani! Glennon here.
We've looked over the list of needs you sent us, and the community of Together Rising is sending $131,423 to Help Refugees to fund the following life-saving projects:
Search and rescue on Lesvos. We'll support the floodlights project. Please tell your team to continue lighting up the water at night — we want to make sure that your rescuers can see the tiny rafts as they crash in the waves away from shore. We're also providing more funding for volunteers, so that people will be there to pull the drowning little ones in from the water. And we want to fund your heater project, too — to provide people with a place to get warm and dry after they safely land.
Doctors and translators in Greece. Please use some of this money for that as well. The translators are closest to our hearts—the thought of children being separated from their families tears at us, so if you can find volunteers to help reunite them, we will pay for their expenses.
Shelters in France. We want to pay for you to build shelters for 50 of the most vulnerable families this winter.
Food kitchens on Samos and Lesvos. As much food as our money will buy. We want to feed our family members.
We love you. We believe in you. We admire you.
Your American Sisters
Within minutes, Dani called, having trouble speaking over her tears. "Thank you! Thank you! We can't believe it! We're all sitting over here in tears. You don't understand — you just don't understand. You are saving lives. You will truly be saving people's lives with this gift. Please tell Together Rising thank you for us. We promise we will make you proud."
Here's some footage showing the floodlights project you funded. Do you see our light? We were right there in the water with them, fighting back the darkness.
Here is one of your food kitchens.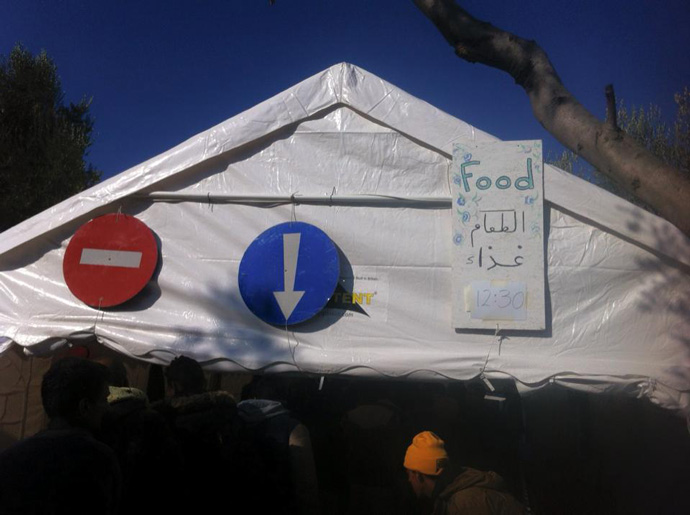 And your shelters. Look. They're being built right now.
We want you to know that did we did not just send gifts and money. We are developing relationships, sending letters, praying and fretting over every detail. We want and need for this to be REAL. We don't want these family members of ours to just feel our help, we want them to feel our friendship and hope and pain and connectedness and love.
Here is a letter from you — included in every mother's package, with each specific gift you are giving to women. This letter is in the refugees' hands. From you, to them.
Thank you to Professor Farzaneh Milani at the University of Virginia for translating our English into our sisters' Arabic.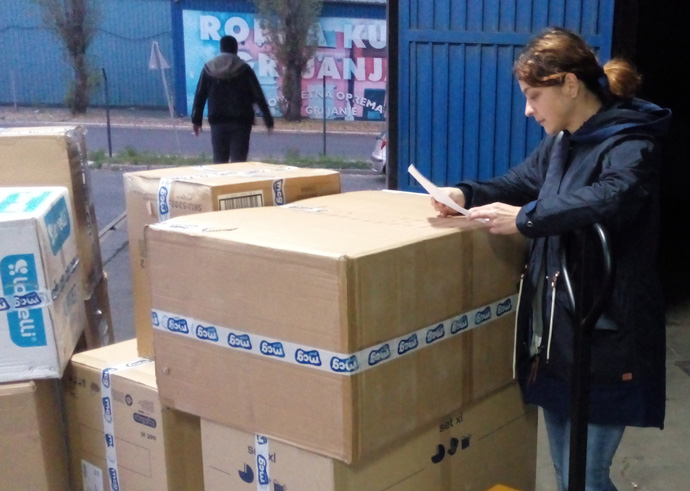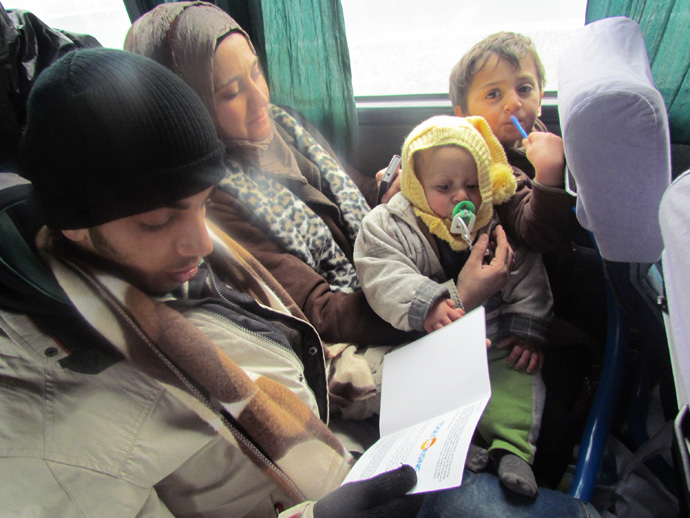 I need to tell you that the past two months have changed us forever. We have seen and heard what we can't unsee or unhear. We have been given the brutiful gift of knowing and it can't be returned. We will not try to unknow what we know. We will follow and trust our heartbreak.
And my friends, here's the good news: Your broken hearts are saving lives.

What I want is for you to think of US as the place to give for refugee relief. To find out why and how: PLEASE COME BACK ON MONDAY.
We will be launching the largest, most beautiful, most important and life-saving Love Project this community has ever seen. We will be joined by a few very, very special friends. We will be joined by four artists and activists who taught us that life is WILD, but LOVE WINS. And that BIG MAGIC only comes from DARING GREATLY.
I will see you on Monday, Love Warriors. Please come. Please come. Love has to show up to win. The world needs us and we need the world.
Glennon, Amy, Sister, Liz, Allison, and Together Rising