Together, with your donations, we continue to support US homeless youth organizations like the Ruth Ellis Center.
The Ruth Ellis Center provides short and long-term residential safe space and support services for homeless youth.  This organization is a top innovator for addressing the needs of LGBTQ youth and young adults experiencing homelessness. They provide outreach and safety-net services, individual, family and group counseling and case management, skill building workshops, HIV prevention, primary health care, substance abuse treatment and prevention, and family preservation programming. The Ruth Ellis Center is the only state-licensed and contracted residential foster care facility specifically for LGBTQ youth in the Midwest.
Your donations helped to fund Ruth's Pantry, a food distribution program that provides access to healthy food and safe space for all homeless youth to create opportunities for a better life, specializing in lesbian, gay, bisexual, transgender, and questioning youth. Ruth's Pantry prepares food backpacks for their Drop In Center — a free, safe, and meaningful space to access food that best facilitates opportunities for youth to focus on healthcare, behavioral health, housing, and development of workforce skills.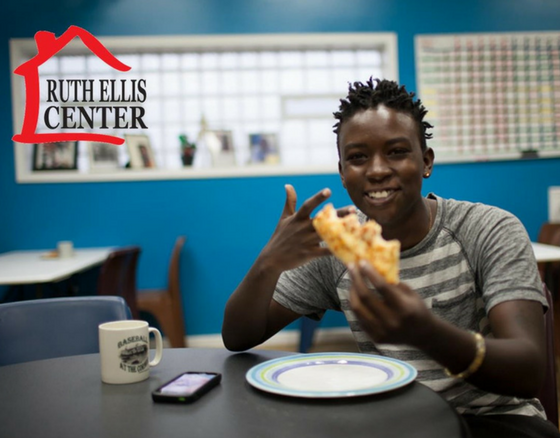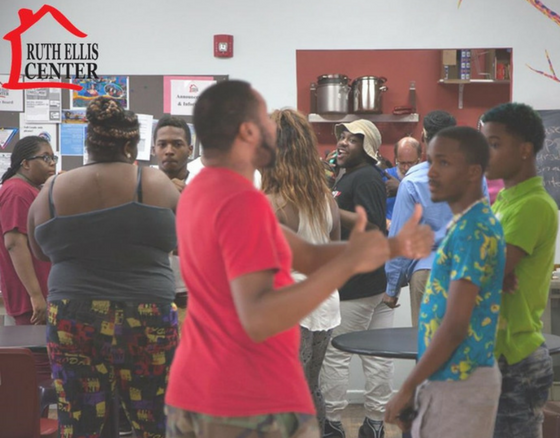 The Ruth Ellis Center shared with us this story:
It was a typical Wednesday evening during normal Drop In Center hours when Simone (pseudonym to protect individuals identity) entered the dining room carrying a small plastic grocery bag from the Dollar Store across the street from the Center. Simone had managed to collect enough small change to purchase two packs of Hamburger Helper (less the hamburger), enough for two or three meals. Quietly she walked up to the kitchen window and politely asked, "Would it be ok to cook my food here at the Center?" John, who has volunteered at the Center every Wednesday night for the past seven years, was struck by the question. "We are serving spaghetti tonight, are you sure you wouldn't rather have that?" Simone, who is normally far from shy, replied quietly "this isn't for tonight, it's for tomorrow. I just need a To Go box if that's ok."  John quickly told Simone that she needn't worry about cooking the Hamburger Helper, he would be glad to cook it for her, and he would find some hamburger to brown up with it. She smiled, thanked John, and sat down at an open seat in the dining room to enjoy her spaghetti. 
Later that evening, Simone shared with John the true nature of her request. Simone, who is now 22 years old, identifies as transgender. She is currently experiencing homelessness, and staying at a local men's transitional housing facility. Because Simone does not have the necessary resources to legally change her assigned gender to the gender she identifies as, the agency's policies prohibit her from being housed with other women. Too often subjected to ridicule and threats of physical violence from the other men in the program, she quickly learned that if she were to survive, she would have to arrive back at the facility late in the evening, just before the doors were locked, disguising herself in men's clothing. While this routine reduced the threat of harm, it also prevented her from accessing the housing program's dining hall during regular meal service.  Ruth Ellis Center's four nights of Drop In Center programming would be her only four meals for the week, unless she could manage to take leftovers back with her for the next day. 
Simone's story is not uncommon. LGBTQ youth experience extraordinary barriers to the most basic resources. Your donations also built an additional storage area and pantry to house both perishable and non-perishable food items, including new electrical work, doors, and shelving, as well as a new commercial refrigerator and freezer. These additions not only increase access to healthy whole foods for the young people served, but provide the necessary resources to sustain and grow this critical program.
With your support, Simone will continue to have weekly groceries from Ruth's Pantry and use of Ruth Ellis Center's hot meal service and kitchen. Simone is one of more than 500 LGBTQ youth and young adults who access services at the Ruth Ellis Center annually.
For more information about the Ruth Ellis Center, please visit http://www.ruthelliscenter.org/.
If you'd like to donate to the healing, uplifting work of Together Rising, please go to: https://togetherrising.org/give/.