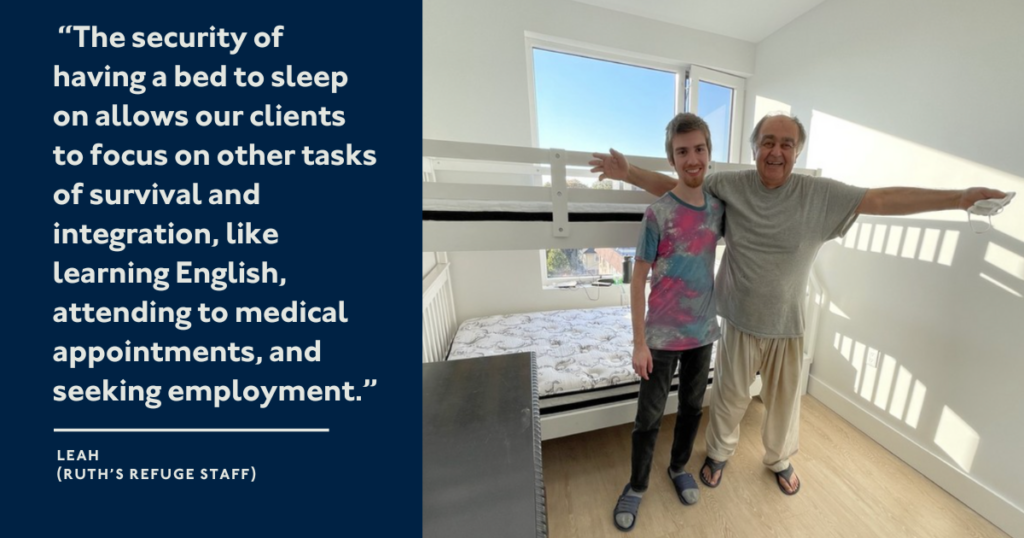 Do you remember the last time you thought about the likelihood that you have a bed to sleep in? With all that's going on, maybe it was rather recently.
We read the headlines from around the world – every day there is news of war, famine, and natural disasters.
Our global community is currently facing some of the largest refugee crises in human history: Afghanistan, Syria, El Salvador, Ukraine and more all have a wide swatch of their population fleeing persecution and violence. Many of those fleeing are arriving in New York City, where local refugee resettlement agencies are stretched thin. While many families may be receiving houses they were not being welcome to homes.
That's where our partner, Ruth's Refuge, saw a gap and stepped in to fill it, with dignity at the center of their efforts.
They are the only organization in New York City that provides household materials and furnishing for asylum seeking families. Their work with families from over 35 countries and the need for their services has only increased since their founding. Ruth's uses a trauma informed approach to their work, ensuring that all recover a sense of choice and agency which has been lost through their status and other parts of their relocation journey. They do so through a personal shopping program that allows individuals to choose which items they want for their home with the assistance of a shopping team. These items are then moved into the home and constructed by a volunteer team – all free of charge. While most of the furniture provided are second hand donations (clean and high quality), bed sets provided are brand new increasing the expense for the nonprofit. This is done to prevent health concerns and bed bugs from used mattresses and bedsprings.
Thanks to the support of our Together Rising community, we were able to invest $21,600 to cover the additional costs of beds and bedding for 54 refugees. We are so grateful for partners like Ruth's Refuge, and the work they do so 54 more people have somewhere safe and clean to sleep tonight.