Save your hands for cuddling your babies!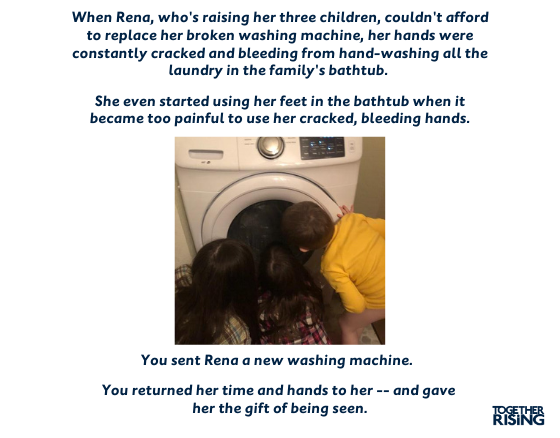 Cece, from this community, wrote to us about your dear friend Rena* --  who is raising her three beautiful children on her own, and whose washing machine broke a while back.  
The cost of replacing it was too much for Rena's already strained budget.  So Rena was forced to hand wash the entire family's laundry in the bathtub while she tried to save for a new washing machine.  But the savings kept being needed for other urgent costs.  
Cece told Together Rising about Rena when she discovered that Rena's hands were constantly cracked and bleeding from incessantly hand-washing their laundry -- and that Rena had even started washing the clothing with her feet in the bathtub when it became too painful to use her cracked, bleeding hands. 
So you, through Together Rising, stepped in to say:  We see you Rena. We might not be able to fix everything that is hard in the world right now, but we can fix this!   Save your precious hands for cuddling your babies.  A new washing machine is on the way!  
Thanks to Team Love, our recurring donors, who give $25, $10, or $5 a month, we were able to respond quickly and purchase a new washer for Rena. You returned her time and hands back to her -- and gave her the gift of being seen.  THANK YOU.
*Names have been changed to protect privacy.