Shelter and life-sustaining supplies for families in the Philippines after Super Typhoon Rai
Last week, Super Typhoon Rai, also known as Odette, absolutely devastated the Philippines. More than 660,000 people—hundreds of thousands of families—remain displaced from their homes. An estimated 159,000 homes sustained damage, of which more than 60,000 were completely decimated. Beyond shelter, families are without power, food, water, and other vital necessities. At least 375 people have been confirmed dead, with dozens still missing.
Together Rising is helping provide life-sustaining supplies and shelter for families in the Cebu region of the Philippines as the area recovers in the aftermath of Super Typhoon Rai. We are deploying $200,000 to the team at ShelterBox, whose coordinated response is being led locally by Filipino people.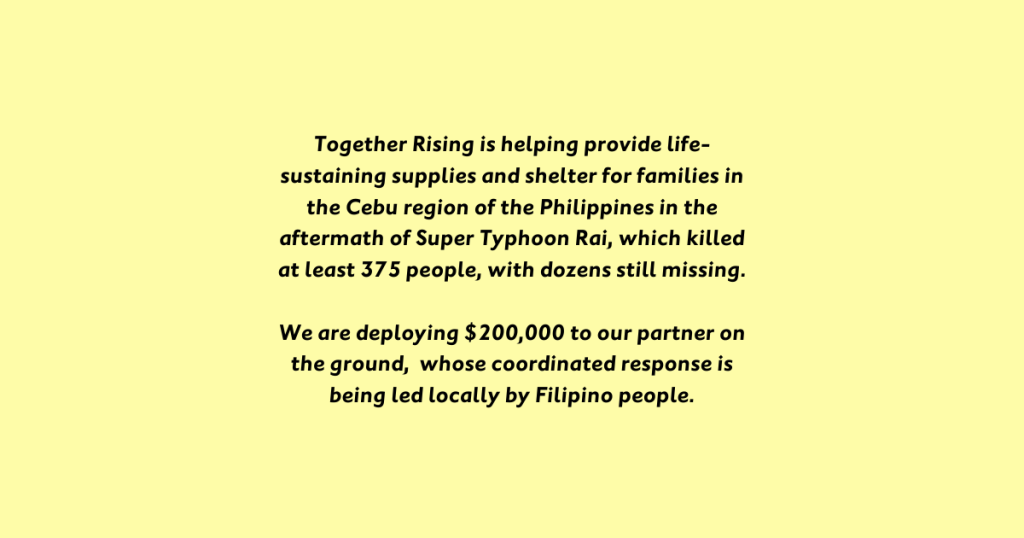 Thank you for showing up for these families. Whether it be Kentucky or the Philippines or Texas or Haiti or Louisiana or any of the other places where we've responded this year, you always show up. Thank you for continuing to prove, time after time, that we belong to each other.