We cannot let the fact that we can't fix everything keep us from helping how we can, as illustrated by this story of Spencer and Kelley.
Spencer and Kelley are from Portland, Oregon. They welcomed Kai, "the light of their lives," in February of this year. Shortly after his arrival, Spencer was diagnosed with Myelodysplastic Syndrome (MDS), a progressive blood cell development disorder that causes abnormally low blood cell counts. His MDS is related to Fanconi Anemia, a genetic bone marrow failure disorder he was diagnosed with at the age of 15. Sadly, the family has already lost Spencer's oldest brother to the condition.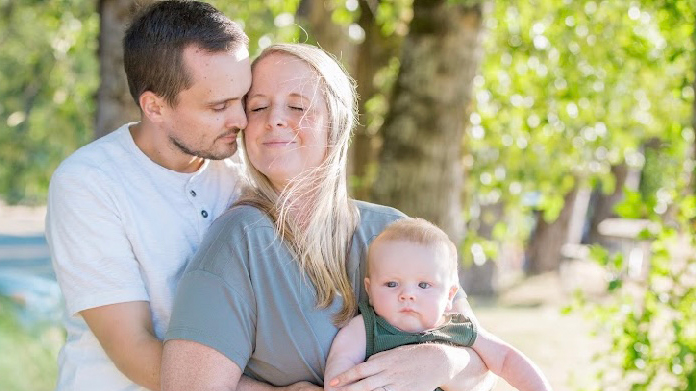 Spencer's having Fanconi Anemia makes potential treatment for his bone marrow failure extremely complicated. He's in desperate need of extensive treatment, including chemotherapy and a bone marrow transplant. There is no perfect nor partial match for him in the bone marrow registry of 25 million people. To hopefully give Spencer more time, the family is pursuing a haploidentical transplant from Spencer's older brother, who is a half match.
Kelley and Spencer have picked up their entire lives to temporarily move to Palo Alto, California, where Spencer will be receiving treatment over the next six months.
During this time, both Kelley and Spencer will be unable to work. Kelley will be the primary caregiver for Spencer, as well as seven-month-old Kai. Kelley wrote to us, worried about how her family would afford housing, food, baby items, and basic necessities—let alone mounting medical bills—as they navigate these harrowing circumstances.
As much as we wish we could, we know we can't fix everything Spencer and Kelley are going through. But we won't let that fact that we can't fix everything keep us from helping how we can.
We are honored to be the place Kelley turned to during this incredibly difficult time for her family. Together, we are showing up for her and Spencer by providing a direct grant that will help ease the immense financial burden that's weighing on their shoulders. Together, we are helping how we can.
Thank you to TEAM LOVE, our recurring donors, whose steady support makes it possible for us to help families like Spencer's.