After her then-husband abandoned her and their six children, Stacy desperately needed somewhere to turn. Together, we met her most immediate need: a reliable vehicle that could fit seven and safely brave the bitterly cold, heavily snowed North Dakota terrain.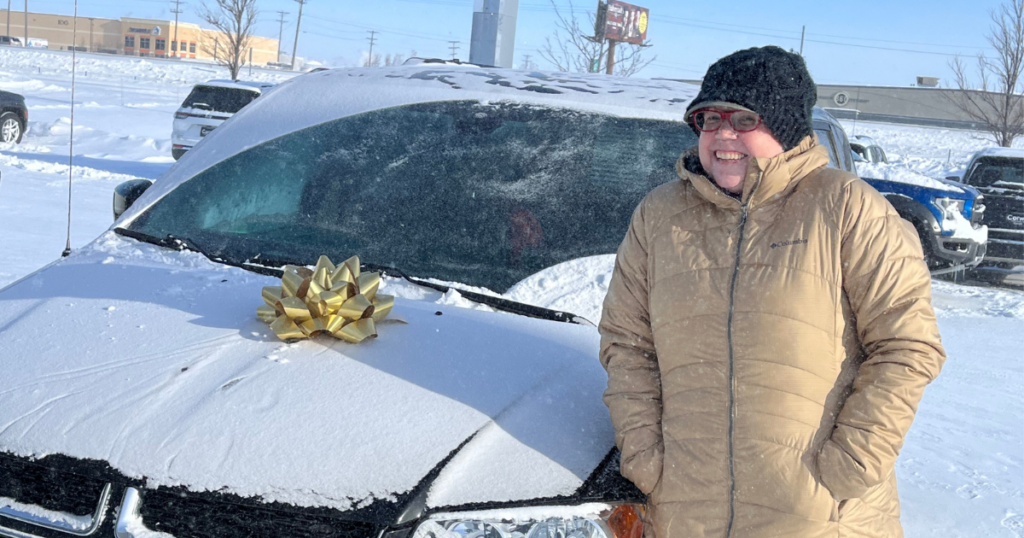 In February of last year, her now-ex-husband was driving with three of their children in the car. He started behaving aggressively toward their daughter. The situation escalated—Stacy's ex-husband ended up having to be escorted from their home.
He never came back. Stacy went from being a stay-at-home mom and social work student to a single mom of six. She was absolutely devastated, as were her kids.
Months later during court proceedings, Stacy lost custody of the vehicle she'd shared with her ex-husband prior—despite Stacy being the sole caregiver of their children. She lives 35 minutes one way from her kids' school. How would she take the children to and from school, activities, and appointments?
It was an immense weight on Stacy's shoulders, on top of everything else she'd already been through.
Through Together Rising, you delivered a safe, reliable vehicle that fits Stacy's family comfortably. Look at how she smiled the day she picked it up from the dealership!
Now Stacy can breathe and focus on helping herself and her children through this hard time. Thank you for being a bright, beautiful light in the darkness for Stacy and her children. Thank you to TEAM LOVE, our recurring donors, whose support made it possible for us to invest in Stacy.