Standing in the gap for Jada's family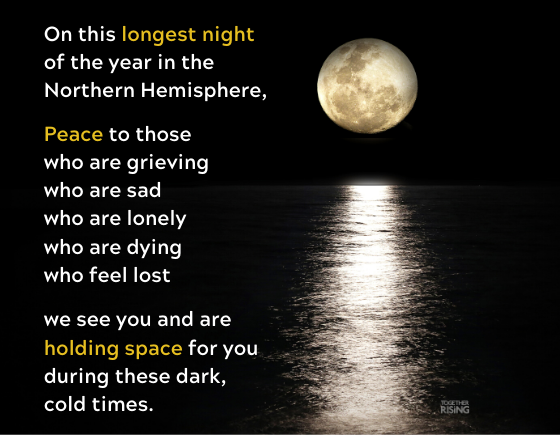 Tonight, on the winter solstice, the longest night of the year in the Northern Hemisphere, we stand with all those who are in pain and hurting -- including Jada's family, as they grieve her loss. 
Beloved mother, sister, wife, and daughter, Jada died this year after a battle with acute myeloid leukemia. She was pregnant when she was diagnosed, and thankfully was able to give birth to a healthy baby. After her son was born, she received a stem-cell transplant, which was initially successful. Sadly, Jada relapsed and died shortly after. 
Jennifer, a member of the Together Rising community and a social worker from the cancer center, wrote to tell us that Jada's family, who had already spent so much on treatment for Jada and medical care for her son, did not have the money for her funeral expenses -- even for what was needed to have Jada's body released from the morgue. She and the other social workers helped Jada and her family find other resources, but this was a need that they couldn't fill, and they were heartbroken.
When we read Jennifer's letter, our hearts were also broken that after all this family had been through they couldn't lay Jada to rest. We knew right away that we needed to step into the gap for this family. Because of TEAM LOVE (our recurring donors), we were able to pay the full amount for Jada's funeral, so that her body could be released from the morgue and her family could bury her.
Thank you for seeing and standing with Jada's baby and family as they mourn.
We also see and stand with everyone for whom this time of year holds grief and pain, everyone for whom time with family is hard, and everyone working hard to heal old wounds. We see you. We are so grateful to this community for coming together in hard times as well as times of joy, in grief as well as celebration. Wishing all of you peace on this longest night, and hope for tomorrow.