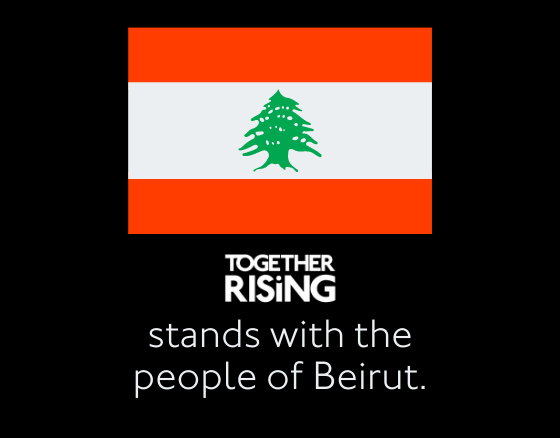 Together Rising stands with our heartbroken, enraged, and devastated siblings in Beirut. 
While fighting a global pandemic, enduring political upheaval, and surviving an economic crisis, the people of Beirut suffered a devastating explosion last week. 
Last Tuesday, thousands of tons of ammonium nitrate, reported to have been stored unsafely for years, detonated -- unleashing unspeakable heartbreak on the Lebanese people. 
The blast killed at least 171 people, with 30-40 people still missing, and injured more than 6,000 people, with 120 still in intensive care.  The explosion destroyed thousands of apartments in the capital city, displacing more than 300,000 people – including 80,000 children. 
Together Rising exists to turn our collective heartbreak into effective action. We immediately mobilized to find the boots-on-the-ground organizations most effectively getting urgent, vital help directly to the people in Beirut who need it most.
We are continuing to research and evaluate this crisis, but today, through Together Rising, you are sending $50,000 to Beit el Baraka to bolster their commitment to rebuild 3,011 homes, rehabilitate 124 shops, supply nutritious food and medicine to thousands, and provide psychological support for adults and children by partnering with specialized therapists.
Thank you to TEAM LOVE for trusting us with your monthly gifts. Because of you, we can deploy vital funds immediately – to those who need it most.