Standing with the Carolinas & Puerto Rico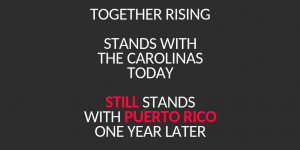 Today, Together Rising is giving $25,000 in emergency response, debris removal and mold sanitation to our friends who are suffering from flooding in the wake of Tropical Depression Florence. This giving is vital, as 90% of folks on the hard-hit Carolina coast do not have flood insurance.
As we send our love and dollars to our friends in Wilmington, Lumberton, Fayetteville, and New Bern, we have not forgotten our friends and fellow Americans in Puerto Rico.
One year ago today, Hurricane Maria made landfall in the Caribbean before devastating Puerto Rico. To date, through Together Rising, you have given $342,000 in life-saving aid to Puerto Rico — including essential medicines, wound care, personal safety gear, body wash, sanitary products, and hygiene kits, as well as funding for experts to travel to 15 different towns across the island to provide medical care.
Our fellow Americans in Puerto Rico are still suffering — and they understand themselves to be forgotten by their own country. Not our on watch. Today, one year later, we are preparing to give additional support to Puerto Rico.