StrongHearts Native Helpline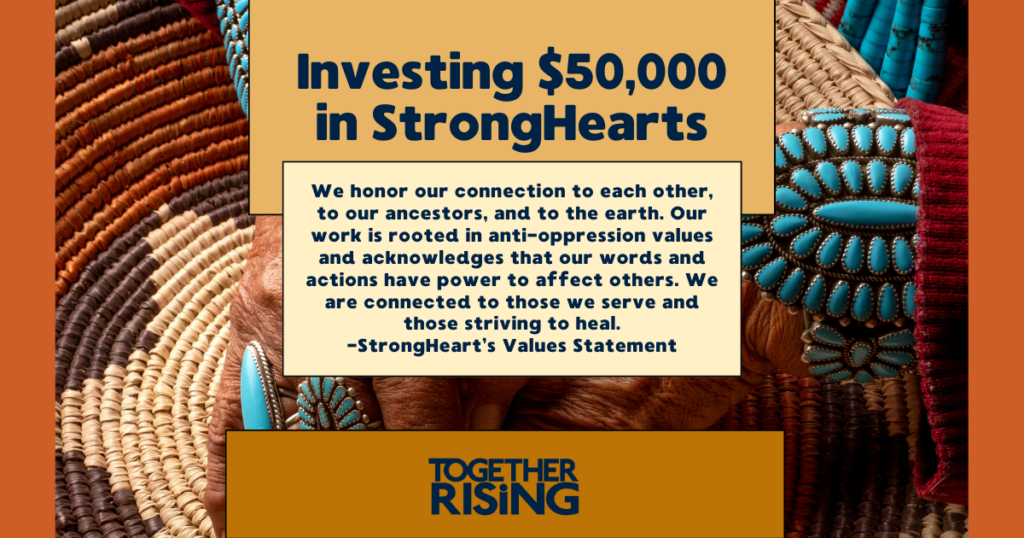 One way to honor and invoke "acts of restoration"– as author Robin Wall Kimmerer invites us to do – is to invest more deeply in the work of and for Indigenous people. This #IndigenousPeoplesDay, we are so grateful to share with you the work of our partner, StrongHearts and the impact of our $50,000 investment. 
StrongHearts Native Helpline is an Indigenous-woman led organization that supports Indigenous women and two-spirit people experiencing sexual violence and intimate partner violence with a 24/7 phone, text, and chat helpline.
Indigenous women suffer some of the highest rates of violence and murder in the United States, a crisis that has diminished the safety and honored status of women in tribal communities. Even in the face of this crisis, only a small percentage reach out for assistance to The Hotline at the National Domestic Violence Hotline. 
StrongHearts exists for that very reason: to restore power to Native Americans impacted by violence by weaving together a braid of safety, sovereignty and support through a culturally appropriate, anonymous, and confidential service available 24/7 nationwide.

Thanks to your ongoing and generous support, Together Rising invested $50,000 in the vision of StrongHearts, to a "return to our traditional lifeways where our relatives are safe, violence is eradicated, and sacredness is restored."
Thank you for helping us celebrate this #IndigenousPeoplesDay in word and action.