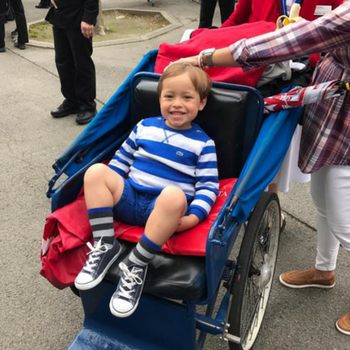 Not all superheroes wear capes.
Fritz is a beautiful three-year old boy, who was diagnosed with leukemia (Acute Lymphoblastic Leukemia) in 2015, and has been progressing through treatment ever since. Known to those who love him as "Super Fritz" — Fritz has been an inspiration to many people in his community. He was named Sacramento Area Leukemia and Lymphoma Society's 2017 man of the year.
This Spring, Fritz was selected to attend the Order of Malta, Western Association USA, Annual Spring Pilgrimage, to Lourdes, France – a once-in-a-lifetime trip for Fritz and his parents. While his costs were covered, his parents' costs were not, so their friends and family began raising money to help send them on a potentially life-altering trip. Because of your generous donations, we were also able to contribute $1,000 still needed to make this dream a reality. One week later, Fritz and his parents were off on their amazing, healing voyage.
Before they left, Fritz's mom Anna wrote to us. She said, "Thank you from the bottom of my heart for contributing to this once in a lifetime experience and the potential for our sweet Fritz to experience a miracle. I know this trip is happening for a reason and being able to share this journey hand in hand with my husband will be extremely special, especially knowing that we won't have a major financial burden as a result of us doing this together."
On the trip, Fritz and his parents connected with people also struggling with various illnesses and returned home with a new, global support system. Anna shared that one of the highlights of the trip was Fritz bathing in the holy water and watching him jump out of his wagon to proclaim, "Mama, my legs are fixed; it was the holy water. It's a miracle!" Since the trip, Fritz's blood work stabilized, and he has been doing spectacularly. His parents, Anna and Ben returned to the United States with a sense of peace and strengthened faith. Fritz still talks about his wonderful trip to Lourdes and stays in contact with many of the people he met on his journey.
As Anna Stark said, "All you want is hope, and that is what this trip gave us."  Thank you for helping bring hope to the Starks and empowering superheroes around the globe.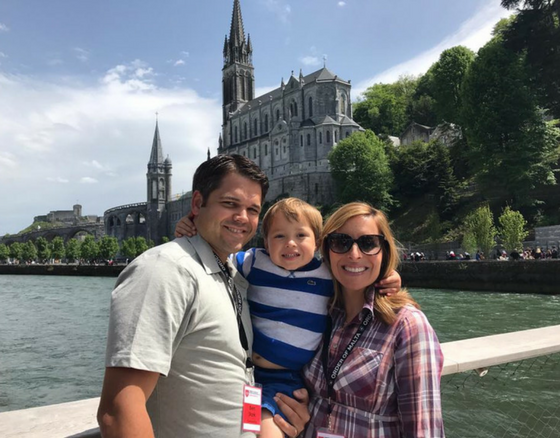 If you'd like to donate to the healing, uplifting work of Together Rising, please go to: https://togetherrising.org/give/.