SUPERMANTHONY gets SUPERWHEELS!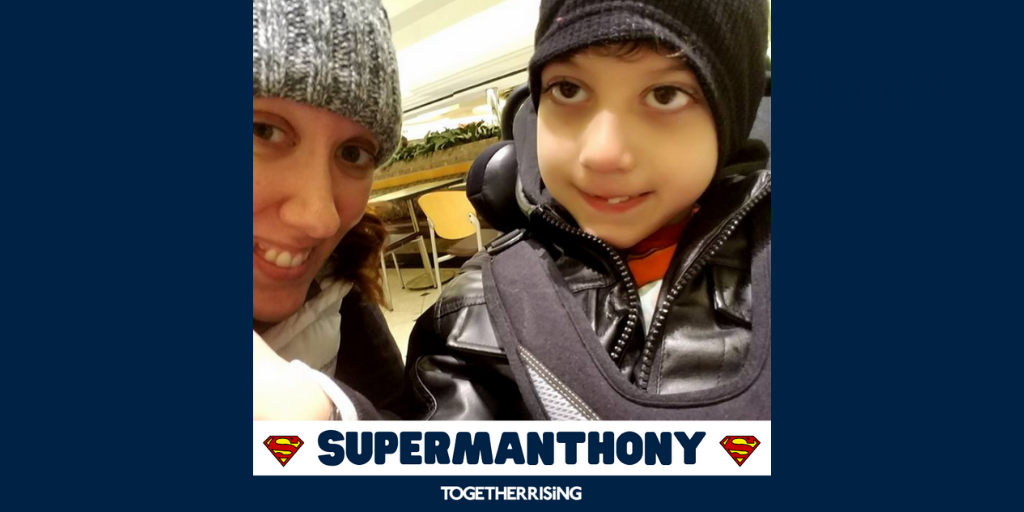 MEET SUPERMANTHONY!!!: -- a 9-year-old superstar who leaves his doctors amazed by continuing to do things they said he'd never do!
Anthony – whose mom calls him "a fierce fighter with the biggest fighting heart and spirit ever" -- has multiple medical needs, including cerebral palsy and Ehlers-Danlos syndrome (a connective tissue disorder causing hypermobile joints and pain).
Anthony's Warrior Mama, 29-year-old Elizabeth, who also has Ehlers-Danlos syndrome, says Anthony loves stronger than anyone she's ever met. Yet, as he has become a thriving big kid, it has become near impossible for Elizabeth to move Anthony between his wheelchair and car seat and to get the wheelchair in and out of their sedan. The family desperately needs a van equipped with a wheelchair lift.
For three years, Elizabeth has been working tirelessly to raise money for a van -- while also working hard to support Anthony and his younger brother. She's held at least 5 fundraisers, and after all of her hard work, and the generous contributions of her community, she was able to raise two-fifths of the van's cost.
Out of options, Elizabeth turned to you -- through Together Rising -- for help.
TODAY, YOU ARE GIVING THIS WARRIOR FAMILY SUPERWHEELS!
YOU'RE GETTING ANTHONY A NEW VAN!!!!
Now, Elizabeth can get Anthony safely in and out of the vehicle, and take him to and from his appointments -- and everywhere else a Superhero needs to be.
Their lives will be a little bit easier – they will breathe a little bit easier – because of you. Thank you. Like hundreds of other miracles you make possible every year, you gave this love offering to Anthony and his family through your generous one-time and monthly giving to Together Rising.
Thank you for being miracles makers.
Thank you for being the helpers.