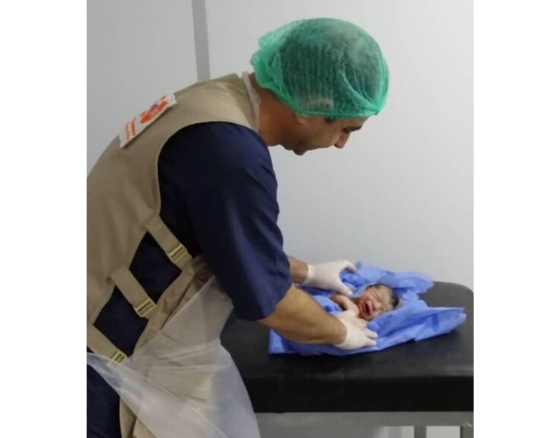 Two days ago, six schools -- including two preschools -- were bombed in and around Idlib, Syria, killing 21 people. As the airstrikes began, and students began fleeing one school, a cluster bomb struck the playground, killing three teachers, one student, and critically injuring six others. 
The terror has forced almost 1 million people to flee toward the northern border, which remains closed to refugees. Hundreds of thousands of families are currently huddled in makeshift outdoor camps in frigid conditions without access to shelter, food, or medical care. Seven children have already died from exposure to the freezing conditions.  
Here at Together Rising, as always, you activated immediately. Today, we are funding $66,505 to Partners Relief and Development to immediately deploy a hospitainer -- a converted, mobile semi-truck operating a full service mini-hospital -- to provide life-saving aid to the families fleeing Idlib. Your funding will employ 43 Syrians as full-time medical professionals and staff -- displaced doctors and nurses who previously worked in hospitals and clinics across Syria, many of which have been destroyed or shuttered as a result of the violence. Together Rising's investment will keep hospitainer in operation for the entire month of March, and because it will remain open 24 hours a day, seven day a week, up to 1000 people will receive care daily.  
With this recent investment, you have now deployed, through Together Rising, $5,029,537.80 to provide life-saving aid to the besieged people of Syria in the form of food, medical aid, and other assistance over the last several years.  Thank you for trusting Together Rising to turn your heartbreak into action.  
Thank you,
Together Rising