Thank you for helping families during COVID-19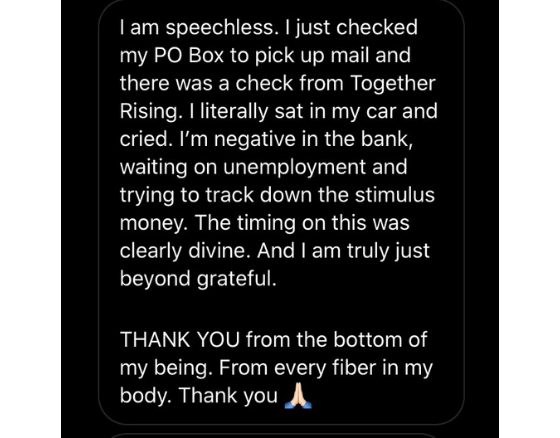 People are suffering so much during this difficult time.  We are hearing from so many of you for whom pandemic-related job losses and furloughs mean you don't know how you will make ends meet—you don't know how you will pay your rent or feed your babies.
And we are also hearing from so many of you who are showing up. During this time of financial stress, you are actually stepping up more than ever—maintaining, increasing or setting up monthly donations to Together Rising for the first time. Through your thousands of $5, $10 and $25 monthly donations, we are providing the urgent relief families desperately need during this time.
Through Together Rising, you have been filling need after need. You have sent grocery cards, helped pay rent and utility bills, helped get vital supplies. Through these gifts, your are saying to these mamas and dads and babies: Your sisters see you. We are in this together. We have not forgotten you.
This note is from Tara, a single mama of two littles, one of whom has Down Syndrome and an immunodeficiency. Tara was laid off last week. She didn't know how she was going to pay her bills and keep her little ones safe and healthy. You sent your love and help for her electric bill and rent.
Our Stewardship Team has been working tirelessly to review all applications of those of you who need help to get through this time. We are honored and grateful to be entrusted with this work, and will not stop until it is complete.
Through Together Rising you will continue to show up for each other, just as you always have, because belong to each other. Thank you for proving that every day.