Thank you for standing with Australia!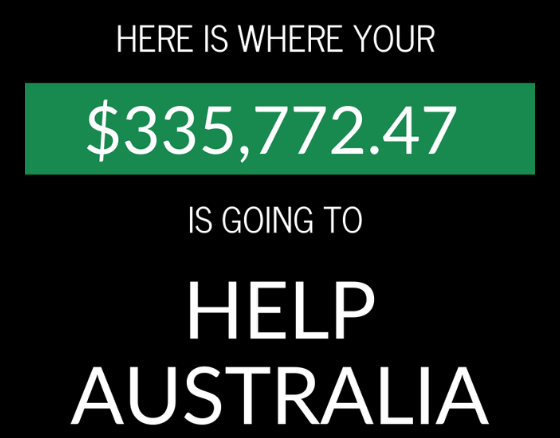 Because of your outpouring of heartbreak and love for Australia, Together Rising is able to send $335,772.47 to heroes easing suffering of the beautiful Australian people and wildlife. Thank you.
PLEASE READ BELOW TO SEE WHERE YOUR DONATIONS ARE GOING.
Our team has immersed ourselves in this crisis. We have very carefully followed the incredible high-profile Australia fundraisers across the world, which are raising an astounding amount of money. Thankfully, these fundraisers are being allocated to worthy and wonderful causes which absolutely need and deserve the funds – most significantly the absolute HEROES of the Rural Fire Services, Country Fire Services and brigades across the country, as well as to go-to charities offering humanitarian relief and wildlife rescue.
In light of the fact that each of these excellent organizations will be heavily funded, Together Rising has decided the best use of your donations is to dive deep into lesser-known organizations that are doing tremendous and vital work on the ground and which face the possibility of being overlooked – groups for which relatively "small" donations of $15,000 -- $60,000 will make a profound impact on the ability to continue urgent and crucial relief efforts. Additionally, we have selected certain organizations uniquely positioned to immediately deploy the money we will send tomorrow.
Here are the boots-on-the ground helpers you are funding -- all deeply embedded and trusted – who have urgently activated to step up for Australian families and wildlife:
$20,000 to KOALAS IN CARE:
This tiny all-volunteer team provides a 24-hour koala rescue service, restores koala habitats and, once recovered, returns koalas to the wild.
We are giving KIC $20,000 toward care, rehabilitation, and veterinary treatment for koalas injured and orphaned in the fires.
$40,000 to VETS FOR COMPASSION:
We are giving this all-volunteer team $40,000 so that highly trained veterinarians can travel to the most devastated areas and care for the wildlife, farm, and companion animals injured during the fires.
$40,000 to WILD2FREE KANGAROO SANCTUARY:
This tiny all-volunteer team operates an animal shelter rehabilitating and releasing orphaned kangaroo joeys. Although the shelter was completely destroyed during the fires, the team remains – using tents to treat the injured animals.
We are giving Wild2Free $40,000 to rebuild capacity and to continue to care for the burned and orphaned animals.
$60,000 to VINNIES BUSHFIRE APPEAL:
We have selected this organization because it is ideally positioned throughout the country to activate immediate, urgent response.
We are giving Vinnies $60,000 to provide emergency support, food, clothing and essential household items to victims of the fires throughout the country.
$60,000 to FIRST NATIONS PEOPLES' URGENT NEEDS:
Many First Nations communities have been devastated by the fires, with countless destroyed homes and forced evacuations.
We are giving $60,000 to an initiative originated and maintained by First Nations leaders to offer culturally sensitive, specific and direct support to First Nations families and communities, including emergency relief and relocation costs.
$100,000 to FOODBANK AUSTRALIA:
Because of the outrageous generosity of Australians, FoodBank Australia has been inundated with donations of food, but they urgently need funds in order to transport food – by truck, air and boat -- to stranded families.
We are giving $100,000 to FoodBank Australia -- allocated among all the affected localities -- to make sure food, water, and formula will reach people who need it most urgently.
$15,772.47 to BLAZEAID:
This all-volunteer run, firefighter-endorsed team brings together groups of volunteers to do the arduous, vital post-fire work of rebuilding fences destroyed by fires in order to protect animals and rural families' livelihoods.
We are giving $15,772.47 to BlazeAid to support their investment in rural communities over the coming months so that farmers can rebuild their lives.
Thank you for trusting us to match your heartache to the heroes who will turn it into love for those suffering in Australia.