Thank you for standing with Syria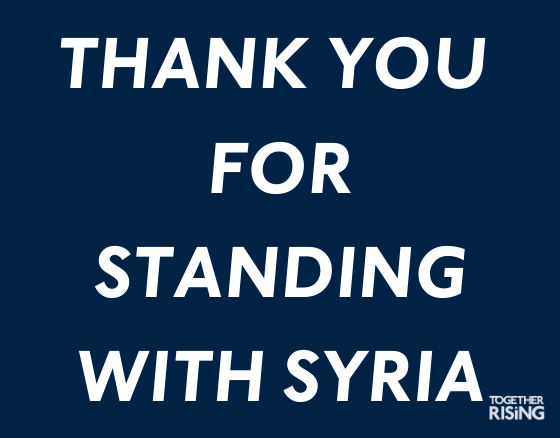 Through Together Rising, you have been standing with the people of Syria for four years -- since a horrific war forced thousands of Syrian families to flee their homes for safety. .
Our hearts broke as we watched toddlers drowning in tiny rubber rafts, freezing on cold beaches; as we watched parents walk for days—carrying their babies on their backs and in their arms – to seek refuge in squalid, overcrowded camps.
To date, Together Rising has deployed $4,851,117.20 to help save the lives of Syrian families – those besieged at home and those fleeing to safety.
You have provided urgent relief to families caught in the atrocities in Aleppo, and those in Douma and Ghouta hiding in tunnels, eating paper to stay alive, to avoid airstrikes and chemical attacks. You have funded clean water, food, blankets, rescue boats, ambulances, mobile hospitals, shelters, heat, and medicine.
These families have been through hell. And right now – Turkish forces are operating a military offensive and airstrikes against them.
At least 24 people have been killed – 16 Kurdish fighters and 8 civilians, including children. Dozens more have been injured. Tens of thousands of people are running for their lives or caught with nowhere to run.
We will not forget these families who have suffered so tremendously.
We will not forget these allies who fought alongside our own troops.
We will not forget that We Belong to Each Other.
Together Rising deployed $50,000 to Preemptive Love Coalition, an organization with which we have worked closely in Syria. PLC is on the ground, prepositioned with ambulances, mobile clinics, and emergency kitchens to respond with food and medical care for families caught in these horrors.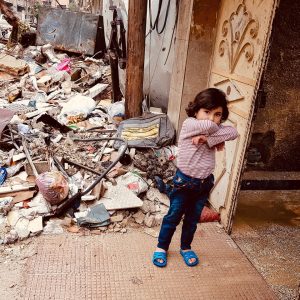 As the horrors in Syria continue to unfold, the $50,000 investment you made through Together Rising is now on the ground supporting two mobile medical clinics activated by Preemptive Love Coalition to assist Syrians fleeing ongoing attacks.
We also deployed every penny we received from your donations for the 48-hour period following last week's investment. 100% of your $61,915.60 in gifts are buying meals to feed 9,287 Syrians fleeing bloodshed.
This crisis is devastating. It's so overwhelming that it's tempting to go numb.
Thank you for refusing to let the fact that you can't fix everything keep you from doing the fixing you can.
It means a great deal to the families who are receiving medical treatment and nourishment because you showed up.