Thank you for walking alongside each other, all the way home.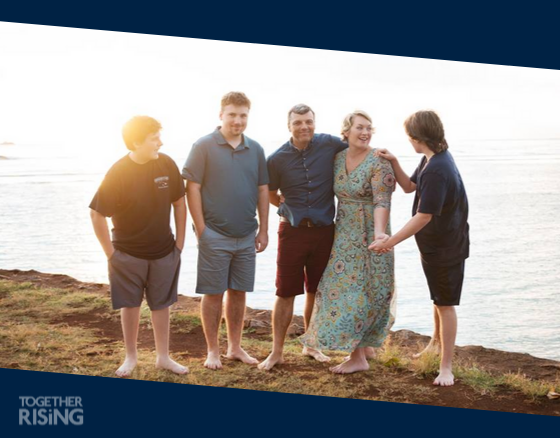 Friends, meet brave, beautiful Shumanay.
This year, Shumanay learned that the breast cancer she has been fighting since 2017 had spread to her liver, lungs and brain. Without further medical advances, her cancer is terminal. She and her family are now doing the very hard work of fighting for her life.
Shumanay lives in Hawaii with her husband and three boys, who are the same age she was when she lost her father. Among other health challenges, they are also coping with the reality of living so far from most of their extended family in the mainland, making it very difficult for loved ones to support the family and help with Shumanay's care.
Together Rising is honored to extend your love to Shumanay and her family by paying for two months' rent of a cottage so she can be surrounded by the love and support of family and friends (without the prohibitive financial stress of local lodging). We are grateful to help provide her with a little bit of peace of mind, and give her space with loved ones as they navigate what this prognosis means for them all.
Shumanay recently wrote to us asking specifically for encouragement and prayers for the success of her ongoing procedures: "While my prognosis is terminal," she wrote, "the goal is to keep the cancer at bay long enough for a cure to be discovered (and to have more precious time with my boys and husband). Thank you for your prayers."
We are deeply inspired by Shumanay's courage and hope, as we send her the fullness of this community's love and encouragement.
With gratitude to each Together Rising supporter, for your commitment to walking alongside each other, all the way home.