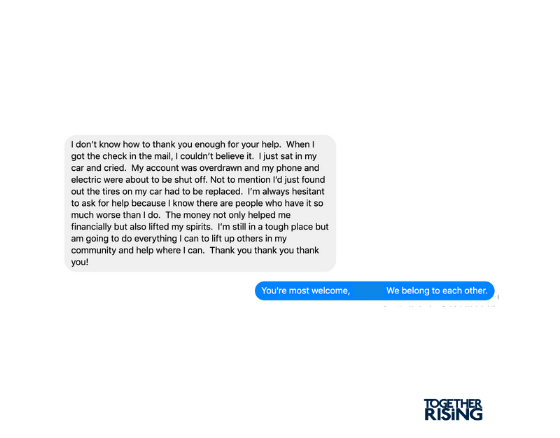 Toni*, a mom of two who is working hard to live with anxiety and depression during these difficult times, was about to lose phone service and electricity when she found the check from Together Rising in her mailbox.
"When I got the check in the mail I couldn't believe it," she wrote. "I just sat in my car and cried...I'm always hesitant to ask for help because I know there are people who have it so much worse than I do. The money not only helped me financially, but also lifted my spirits."
Times are tough for many of us right now, so we are extra grateful that you keep showing up for each other though your support to Together Rising. Thank you for not letting the fact that you can't do everything keep you from doing SOMETHING. That something meant the world to Toni, and it means the world to us.
*Name has been changed to protect privacy.