Thank You for Astonishing the World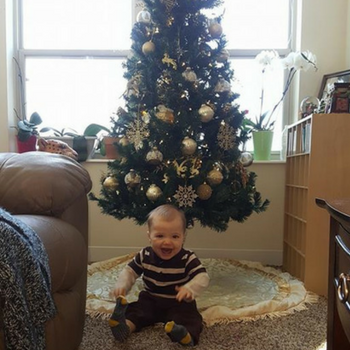 I know that everything is scary right now. I just keep reminding myself that the two most often repeated phrases in my holy text are DO NOT BE AFRAID and REMEMBER. Our human family is dismembered—like a scattered puzzle. We must re-member. We must rise above our fear and come together. Even when we are afraid.
We all have fear. But fear does not have to be where we set up camp and live. We can allow fear to become but a flicker. We can feel it, and then rise above it again and again. There is a place above our fear we can keep returning to again and again and that place is love.
Fear is real but it is not the boss of us. Love is the boss of us.
Last Wednesday, in six hours, this incredible community fulfilled the wishes of 700 families through our annual Together Rising Holiday Hands effort.  This year, these families will walk around feeling held.  Instead of turning the news back on tonight, sit down with your families and read some of the Holiday Hands needs you met for strangers. You've got two wolves fighting inside of you: Love and Fear. The one you feed is the one who will win. Let Love Win.
We've already heard from Bekah, who received her Holiday Hands wish from Jessica:
Dear Glennon, It's been a rough year. Really rough. My husband lost his job, and I've had health issues, and so it goes, as we all haveour moments of disaster. When we lost our house to foreclosure, we had to leave our tree, along with many other possessions. But today, we received a gift. A gift from my match, Jessica, which was made possible by your community. Thank you so, SO much for never giving up, for stepping up for all of us. Here's my 10.5 month old ready for his first Christmas (he was born December 28th!) I cried when I saw the package. With sadness for what we lost, but with so much more joy for the love and kindness out there. This is so much more than a tree. May you and Abby and family have a beautiful, blessed Christmas. 
Much love!
We spend so much time looking at the world with our hearts broken- wishing it were different. Wishing people cared for each other. Wishing people would be kinder, live bigger, think beyond themselves. Wishing. And then one day we find ourselves jumping in and MAKING IT SO. We stop wishing and DO. We CREATE a kinder, bigger, smaller, better world.
Jen wrote us this:
I'm Jen. I am wife to Brad, Mama to Maren (9) and Greta (5). I have breast cancer — the bad kind — Stage IV, terminal, metastatic. My doctors tell me I have 8 weeks to 2 years to live depending on how the cancer grows. For much of 2016, I have been "sick". I am (mostly) able to do all of my normal, fun, stay-at-home mom jobs, but I feel like I have the flu most of the time.
Truth: I am a fierce, joy-seeking, enthusiastic, intelligent, loving person.
Truth: I am weary.
This holiday I could use a little boost. I don't know what to ask for. My current Christmas wish list is a bit dreary and all has to do with recording me for the future of my girls (gift certs for photo books and old photo/video/film digitization). These legacy choices are good things and will mean a lot to my girls in the future, but I admit in the rawness of this holy space that Glennon created that it is woefully sad to not be asking for normal things for "the future" me.
This is how you responded:
Jennifer – I am a cancer survivor too, and I would like to help. If Ann Marie has already covered some of it, let me know what else I can do.
Ann Marie S – Sending you a message…Love and light!
Krista wrote us this:
My husband is a tireless worker who always puts his family first. He works in the Canadian oil industry, which as you may know has been struggling for the last couple of years. During this downturn, he has had his wage reduced three times while watching more than 2/3rds of the staff at his company lose their jobs. We are incredibly grateful that he is still working but money is understandably tight. He has been wearing shoes with holes in them and refusing to replace them because we have two small kids who need good winter boots, warm coats and the things kids need replaced on a regular basis. He would never ask for anything for himself and I would love to surprise him with some shiny new shoes. Thank you for your consideration. I love the Momastery community. Together, we can do hard things.
This is how you responded:
Molly – Hi Krista! I would love to meet this need for your family. I am going to email you now.
Amy wrote to us: 
My eight year old twin boys are still wearing size 6-7 coats this year. They're a bit too small but they just keep wearing them. I would love to surprise them with new coats for Christmas. One of them likes soft fleece type and the other like smooth puffy coats. They are the sweetest boys and never complain about stuff they don't have. Thank you for considering us. I LOVE this community.
This is how you responded: 
Megan – Great, I sent you an email. Let me know what size you'd prefer (8 or 10) and if the boys have color preferences. Glad we can help!
And those are just FOUR of the listings. FOUR. Out of hundreds and hundreds.
For those who requested letters, many had MANY MANY GIVERS PER ASKER. And those lists are still growing. I just looked through the responses to the 80 people who wrote in asking simply for notes and prayers from us.
People like Beckie:
My 8 year old son, Wyatt, is in 2nd grade and is in an LLD classroom for learning disabilities. Over the past year, Wyatt has been struggling with anxiety and depression. Over the past couple of weeks, these struggles have come to a head in a really scary and tough way. Wyatt is definitely in a battle between Good and Evil- Truth and Lies. He is believing that he is not a good person, worthy or love and friendship. And that there is no hope for him in this world. And that all of the confusion and frustration going on inside cannot be fixed.
Would you consider writing a card or letter to Wyatt this holiday season? He needs words & prayers of truth, affirmation, love and encouragement poured into him. He is kind, thoughtful, caring, and funny.
I am certain that it would lift his spirits and that Truth and Love can and WILL win in Wyatt.
Thank you for your love and consideration. Carry On, Love Warriors!
People like Amanda:
We are a military family and my husband is on his 3rd, 12 month deployment. I would like to ask for letters of encouragement to our 3 kids. They're so strong and their hearts are so big. We're 5 months into this and I feel like the weight of it all is really adding up. They're questioning why he has to go but others dads are always home. Father/Daughter dances, birthdays, holidays…. they handle it all with so much grace. Aubree is 10, Abram is 4 and Alec is 3. Bree obviously is having the hardest time. I try to explain to her that our lifestyle is hard core and she is amazing because she gives up these huge life events with her dad so other kids can have their dad's home. She's sick of giving and it's showing. I'm worried about their relationship. My husband is an amazing father but when he's deployed he kind of checks out a bit, rightly so…..the only bad thing with that is that the kids don't get that regular affirmation that they're rocking this. Words of encouragement go so far with these three.
I just scrolled and scrolled – and scrolled some more — through your responses, with heart overflowing.
Each year, during Holiday Hands, there are so many givers to our letter requests. It's always, always so beautiful. And so, we've decided to keep a permanent sacred space for Together Letters on the Together Rising website.
It's just everything- to be seen and heard. To be loved when you're UP and to be loved when you're DOWN – just for being a human being –without earning it. It's everything. There is nothing else. That's the spirit of Together Letters. We're hoping it will be an on-going celebration of being seen, heard, and knowing that we're not alone.
To read and reply to Together Letters, please click here. If you would like to submit a Together Letters listing — a request for non-material comfort and support from this community — please create your listing here.