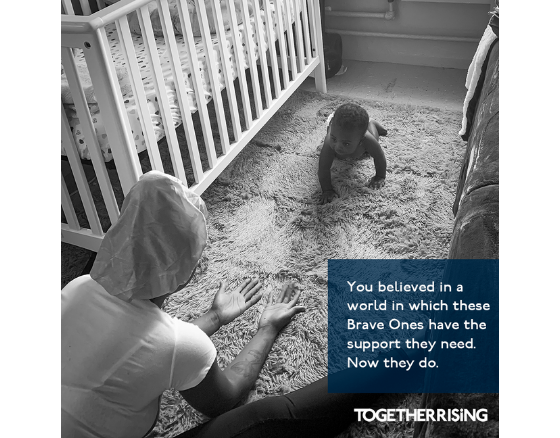 After spending their lives in foster care, these Brave Ones had "aged out" of the system, and utterly alone in gigantic NYC - without a family, community or the tangible things needed to start a life. But they didn't have to be. You stepped into this gap last May and gave enough for 32 youth to get the support they needed.
We deployed every penny we received from you - $200,042 - to City Living NY - an amazing organization which serves as family to youth who have aged out of the foster system. Because of your generosity, they hired their first-ever full-time social worker and offered more hours for a part-time social worker. City Living welcomed these young warriors - several of whom are young mothers with little ones - into their community. Because of you, they were no longer alone.
Over the past 14 months, the staff worked one-on-one with each youth to help them build stability. In that time, several found employment while others enrolled in college. Each and every one secured housing. Together, the youth and staff picked out essentials, hung curtains and built furniture, transforming first apartments into homes.
Because of you, City Living was able to support these Brave Ones as they adjusted to independent life!
And then COVID hit. Most of the youth work in restaurants and retail and were disproportionately affected when they closed. City Living quickly pivoted to help them cope. They paid rent, bills, bought laptops for remote work and school and sent food, diapers and formula, all to ensure that the youth wouldn't lose the stability and independence they'd achieved.
We just received the best update. Despite the challenges of the past few months, each and every one has remained securely housed!
While so much has shifted, the goal remains: for these precious warriors to have the same opportunities as any young adult starting independent life. Those opportunities are within their reach because you chose to love wider than your own homes and neighborhoods. You believed in a world in which these Brave Ones have the support they need. Now, they do. Let's keep building the world we believe in by doing right by one person - or in this case, 32 precious people at a time.