Their Family is Our Family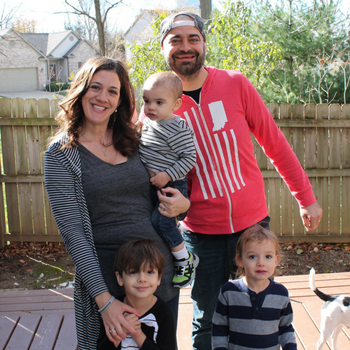 Together Rising family, meet Whitney, Adam, and their three precious babies Isaac, Noah, and Gideon.
In early 2015, Adam began experiencing episodes of dizziness and numbness in his leg, which increased in frequency over the course of many months. At the time he was juggling graduate school, working, and raising two young boys with a third on the way, and his doctor assured him it was likely stress-related. After a scary incident in which he had a loss of vision while driving, Adam's doctor ordered an MRI, which revealed a brain tumor the size of a baseball. After the surgery to remove the tumor Whitney and Adam received the devastating news that the tumor was glioblastoma, an aggressive and incurable cancer with an average survival rate of 15 months post-diagnosis.
In a recent blog post, titled "We're having a crappy time," Whitney writes, "And the truth is, we are. A really crappy time actually. Now I know I was not the one lying on the OR table with my brain exposed while surgeons carefully resected a tumor. But (I know this without a doubt because Adam and I talk about it often) this part of the battle is much worse. It's much harder. And we're really struggling. A LOT."
Their medical bills continue to pile up. After selling their home and a car, as well as some of their belongings, they moved in with family and are struggling to make ends meet as they have gone from two full-time incomes to one part-time income. Whitney writes, "I've been trying to balance working some to pay the bills but also to be home to spend time with Adam and our boys especially not knowing how long we have left with him. So, in short our biggest need, other than prayers, is a financial one. We are trying to keep up with bills and medical expenses but it can be difficult."
While we cannot lift the emotional and physical burdens that Whitney and Adam are bearing, you have helped with the financial burden by helping pay some of their medical bills and buy groceries.
Thank you for showing up for Adam, Whitney, and their three precious boys, and for showing them that their family is our family.
If you'd like to donate to the healing, uplifting work of Together Rising, please go to: https://togetherrising.org/give/.