Therapy for 322 essential workers
The onslaught of collective trauma we've experienced these last twenty months has been absolutely catastrophic for our mental health, especially for essential workers. When others could stay home, they could not. They continued to show up—risking every day potentially exposing themselves or their loved ones to COVID—to teach, to deliver, to harvest, to nurse, to doctor, and to support our communities.
"From nurses, to teachers, to food service employees and beyond—many are still experiencing the anxiety, stress, grief, and overwhelm that the pandemic induced," says Jennifer Silacci, the founder of Therapy Aid Coalition. The latest available data is harrowing, with one in four essential workers being diagnosed with a mental health condition since the pandemic started according to the APA. In a CDC survey, 38% of essential workers reported having COVID-related trauma and/or a stressor-related disorder. Yet, due in part to the unaffordability and inaccessibility of therapy, counseling, and healthcare in general, 75% of essential workers—three out of every four—stated that they needed more emotional support than they received.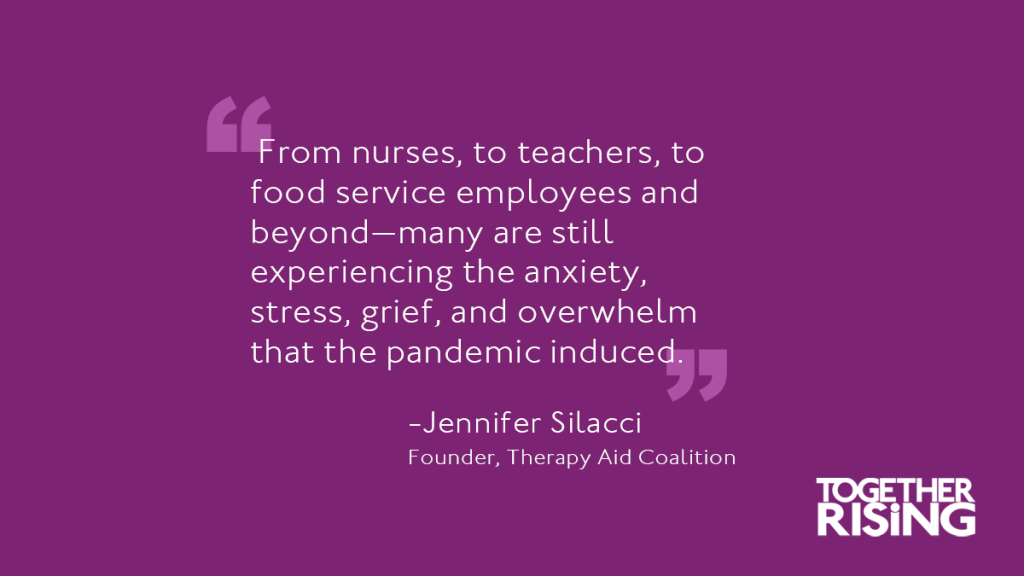 That gap—the deep chasm between essential workers in need of high-quality, affordable mental health care and those who actually receive it—is exactly why Jennifer started Therapy Aid Coalition at the beginning of the pandemic. The organization serves all types of essential workers—anyone who did not have the privilege of working from home when stay-at-home orders were in effect. In less than two years, Jennifer and her entirely volunteer-run team have organized more than 3,000 licensed therapists to provide high-quality, low-to-no-cost therapy to thousands of essential workers across all fifty states.
We are honored to be investing in Therapy Aid Coalition's work by fulfilling 322 requests for therapy—an entire month's worth—as part of our initiative to support essential workers this holiday season. Thank you for making this investment possible.
Stay tuned for next week's story, which will focus on the impact the pandemic has had on the mental health of frontline healthcare workers.