Together Rising celebrates the first day of Pride Month
On this first day of Pride Month, we are sharing the story of how Beth and Angelica recovered after a car accident nearly took their lives—with this community's help.
Beth made the difficult decision to go back to school, with the goal of providing professional support to people with substance use disorder. Just weeks later, Angelica, her fiancée and the sole income earner for their family, abruptly lost her job due to COVID-19. Later that very same day, Beth and Angelica were in a car accident while driving on a bridge—a hit-and-run that left them feeling grateful to be alive. Their car—their only method of transportation in their very rural town—was left unsalvageable.
In a matter of hours, their family quickly slipped from stability to crisis.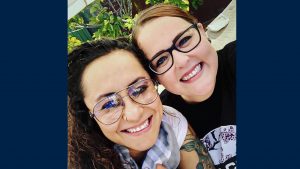 Without a source of income and without a car, Beth and Angelica didn't know how they'd pay their rent or electricity or hospital bills.
Beth needed somewhere to turn. She wrote to Together Rising. When she shared part of her story with us, this community—all of us through Together Rising—immediately stepped in the gap for them. With Together Rising's financial assistance, Beth and Angelica were able to focus their energy on recovering, instead of being consumed by their anxiety over bills.
In her thank you to us, Beth shared:
"We can't begin to thank you enough for the gift we received. In a moment of desperation we checked the mail, & tears immediately started flowing!"
Together Rising celebrates the first day of Pride Month alongside everyone in our community. As of yesterday, we have given over $1.5 million in COVID relief. We will continue to show up to support families like Beth and Angelica's because our community is one where all families can turn when in need.
Note: Names have been changed to honor requested anonymity.