Together Rising's Round 3 Funding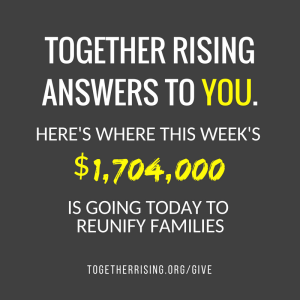 We are reporting to you today on Together Rising's Round 3 giving. This is how you, through your devoted giving to Together Rising, are deploying $1,704,000 today to organizations that are advocating for and reuniting separated families RIGHT NOW:
$500,000 to AL OTRO LADO to:
1) Develop a screening and referral system throughout Honduras, Guatemala and El Salvador to identify parents who have been deported without their children and to refer them to attorneys to work on reunification/ representation of the child in the U.S. (Note: We have documented cases of parents of separated children who are being deported WITHOUT the children that the government took. Many of these parents are being told that giving up their asylum claims and voluntarily signing their own deportation orders is the only way they will see their kids again – only to return to their home countries and learn that their children are still being held in detention in the U.S.) So in order for these parents to ever see their children again, an effective referral network throughout Central America and beyond is vital to connect these parents to US-based advocates.
2) Hire two attorneys and two paralegals to help with reunification and to represent families who have been separated.
3) Hire a staff member to work with separated families in Los Angeles to coordinate mental health, medical, and other social services required by parents and children as a result of the trauma of separation.
$270,000 to TEXAS CIVIL RIGHTS PROJECT to:
1) Hire a six-month visiting attorney and a new mid-level attorney, as well as fund a program director and paralegal position to advocate and reunify separated families; and
2) Fund the costs of bilingual private investigators, translators, and travel required in connection with the advocacy and reunification efforts
$309,000 to NORTHWEST IMMIGRANT RIGHTS PROJECT to:
1) Provide bond funds for all immigrant parents and guardians in detention in Washington State whose children were taken from them at the border. The bond funds will allow the detained parents to be removed from detention pending the completion of their asylum claims/ immigration proceedings. Being out of federal detention gives the parents a much better opportunity to reunify with the children (and have children removed from detention) while their cases are pending, which can take up to one year.
$125,000 to SAFE PASSAGE PROJECT to:
1) Provide representation to fifty unaccompanied immigrant children who have been relocated to New York from the border, and are not with their parents.
$500,000 to IMMIGRANT DEFENDERS LAW CENTER IN LA to:
1) Represent all separated parents from Southern California local detention facilities and facilitate reunification with their children.
2) Locate and provide representation to the parents of the nearly 70 separated children who are already their clients.
3) Provide social services and resources to reunited families required as a result of the trauma of separation.
At Together Rising, we don't do despair. We turn our collective heartbreak into collective action.
YOU DID THIS. THANK YOU.
We will not forget these children. And we will not rest until every single one of them is reunited. www.togetherrising.org/give.
Love,
G & Together Rising