Tomorrow is Match Day for Holiday Hands 2020!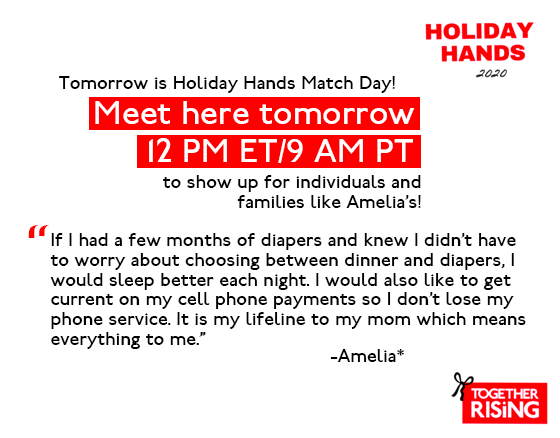 Meet back here tomorrow at 12pm ET/9am PT for Together Rising's 10th Annual Holiday Hands!    
Tomorrow is Match Day for Holiday Hands -- a miracle that YOU pull off every year. It is the day we re-learn that small things with great love are what change the world. It's when we prove what we believe -- that We Belong To Each Other. It's when we show our own families what the holidays are really about. 
Tomorrow, on Match Day, together, we are going to step up for more families than ever before!
We are going to show up for:  young adults who have aged out of the foster care system and are living on their own in New York City;  immigrant families with young children; and the Oglala Lakota living on Pine Ridge Reservation in South Dakota. We are honored to support these families through our partners: City Living NY, Nido De Esperanza, and One Spirit.
We always give our newsletter community first priority access to the listings, so if you want to be part of that community and search the listings early tomorrow, please sign up HERE. 
Gather your giving-est friends and come back TOMORROW (Tuesday, Nov. 17) at 12pm ET / 9am PT.  Tomorrow is when we get to stop wishing for a kinder, better, more decent world, and we get to start creating one for hundreds of families.