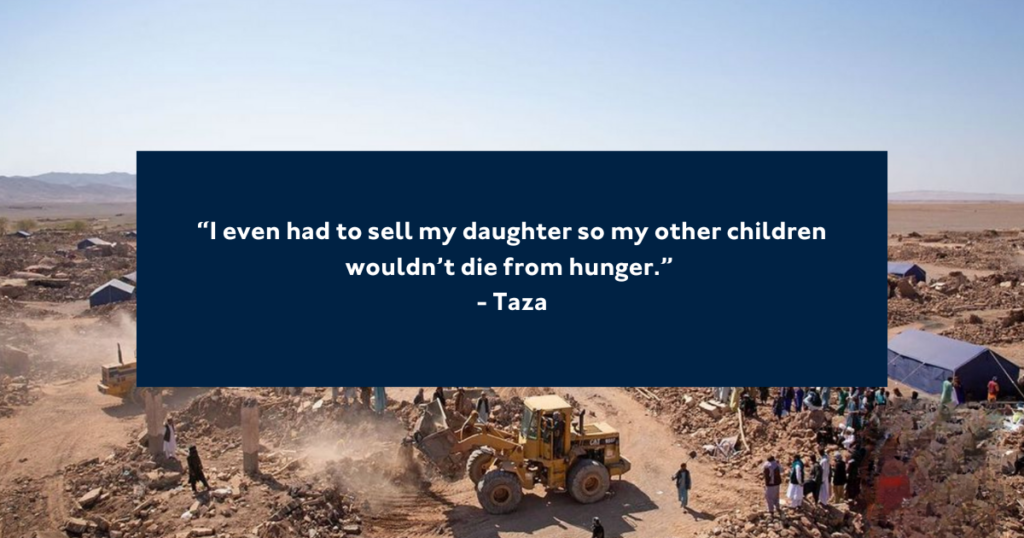 When tragedy strikes, it is often the most vulnerable who pay. When a 6.3 magnitude earthquake struck the province of Herat in Afghanistan on October 7th, over 2,400 Afghans were killed and thousands more injured. Entire villages were wiped out. And even more tragically, 90% of those killed and injured were women and children. 
Our partner, Too Young To Wed (TYTW), mobilized immediately on the very day of the earthquake, before most organizations were even on the ground. In tents themselves, that first night alone they were delivering aid to over 1,000 families and documenting the stories of survivors.
Then came two more 6.3 magnitude earthquakes followed by a severe dust storm. This storm destroyed temporary shelters and disrupted aid deliveries. Over 114,000 people are now in desperate need of health assistance.
What does an organization working to increase the visibility of child marriage across the world have to do with an earthquake? Quite a bit.
In the aftermath of natural disasters, girls and women living under the oppressive conditions of gender oppression face especially grave risks. Stripped of basic rights and mobility, they become highly vulnerable to exploitation, abuse, and trafficking. Disasters exacerbate existing gender inequalities, making it difficult for women and girls to escape danger or access essential resources. TYTW's humanitarian assistance focuses on delivering aid to families headed by widows and single mothers, already suffering under violent gender oppression.
Many families after the earthquake reported feeling so "destitute and despairing with winter approaching, they feel forced to sell their surviving daughters into marriage just to make ends meet."
This is preventable. We must do what we can to prevent it.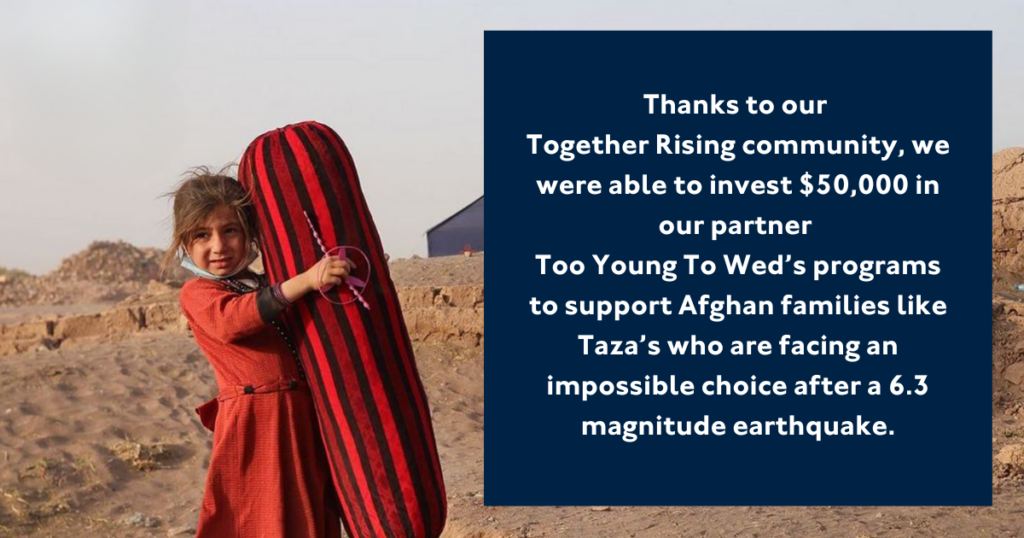 Thanks to our Together Rising community, we were able to invest $50,000 in programs to support families with food and education so that they are not faced with the impossible choice to either sell their girl children into marriage, or keep their other children alive. Thank you for helping prevent the tragedy of child marriages. Thank you for helping families rebuild their lives together.
Photos provided by Too Young To Wed