$150,000 deployed to feed families in western Kentucky for the next three weeks
Since the moment we heard, our team has been searching diligently for how to help those impacted by the catastrophic tornadoes that swept across Kentucky, Illinois, Arkansas, Missouri, and Tennessee. As the death toll continues to rise, our hearts break for the families of the more than 88 people who have been confirmed dead. We continue to stand with every person impacted by this horrific tragedy.
In addition to pledging $100,000, we asked you to join us in showing up for our neighbors. You couldn't have done so more beautifully. Together, we raised $292,377.23, bringing the total amount that will be invested to an amazing $392,377.23. When our neighbors needed us, we all showed up to help. The way that all of our collective love and support impacts the world is powerful. We are powerful.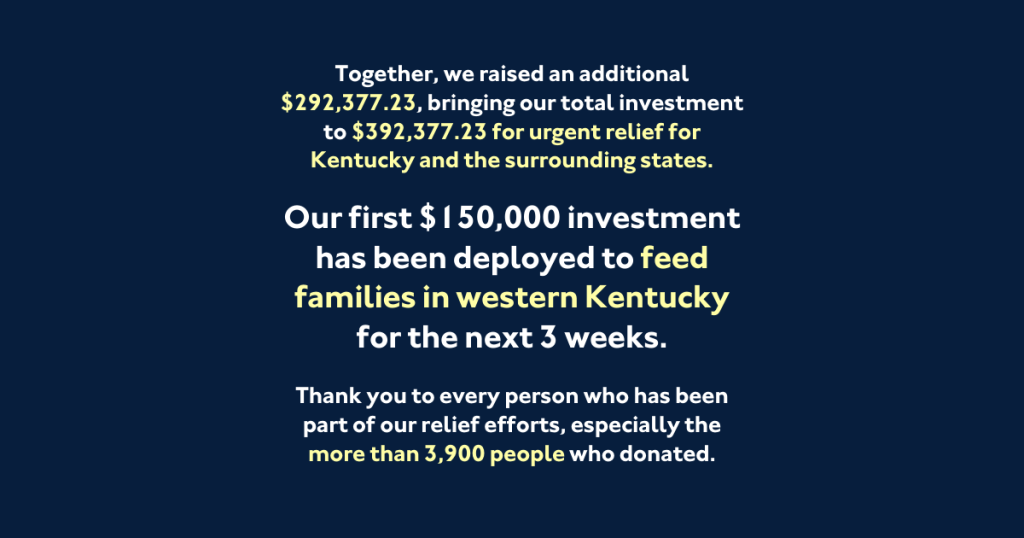 Of all of the needs on the ground, one of the most pressing is food. That's why our first $150,000 has been deployed to feed families in western Kentucky for the next 3 weeks via the incredible team at The LEE Initiative. We were on the phone with their co-founder, Lindsey Ofcacek, just this morning. Her team is supporting a highly diverse array of food truck owners who are getting meals to the hardest hit communities, including Mayfield, Dawson Springs, and Bowling Green. By meeting families right where they are and working in tandem with local emergency management agencies and other food-focused non-profits, the team is ensuring that every family who needs meals receives them. In addition to providing food, The LEE Initiative is covering the costs of diapers and formula that food truck drivers so thoughtfully picked up while on their way to distribute food.
We appreciate you and your continued trust in us. We will come back to you again soon so you know how every single penny of donations is being invested in these communities.
Thank you to the more than 3,900 people who donated. Thank you to everyone who helped us get the word out by telling their people. Thank you to Lindsey and her team for their tireless work. Thank you to every single person who has been part of responding to this crisis. Thank you for continuing to prove, once again, that we belong to each other.