On Friday, we announced Together Rising's $250,000 initial commitment—and we came to you and asked if you'd join us in standing in continued solidarity with those whose lives were shattered by the invasion of Ukraine.
In less than 72 hours, more than 13,000 of you donated an incredible $1,003,617.38. We are deeply grateful for this community and the way you always show up.
Our team is working to deploy every penny in the most impactful ways—with some of this investment already on the ground in Ukraine.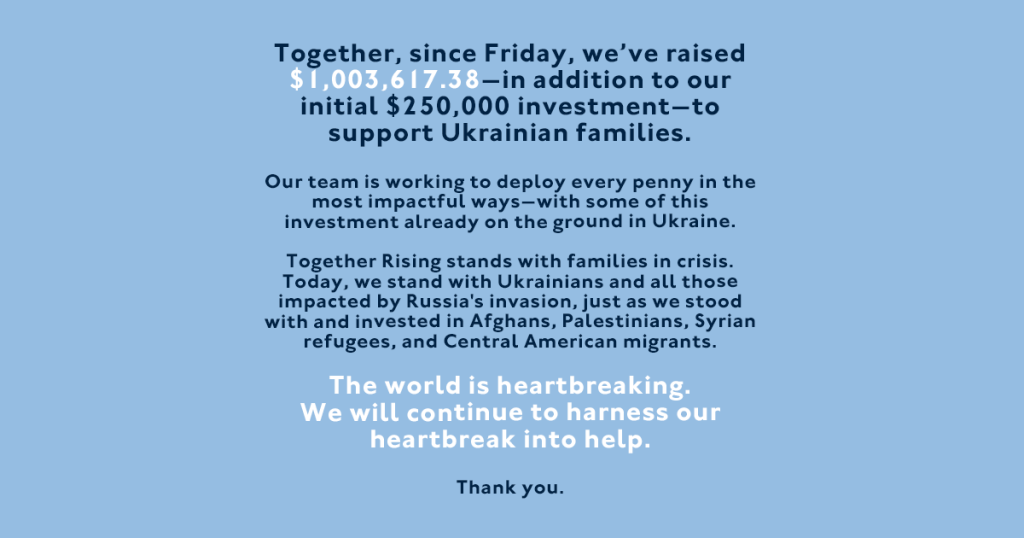 If you've been part of our community before now, you know that Together Rising has always stood with families in crisis, no matter where they are in the world.
Today, we stand with and invest in Ukrainians and all those impacted by Russia's invasion, just as we have stood with and invested in Afghans, Palestinians, Syrian refugees, and Central American migrants.
Again, thank you to every single person who has donated, shared, and supported our Ukraine response.
If you wish to join this work, you can still make a donation at TogetherRising.org/Give. 
As always, we will update you about how every penny of your donations is invested.