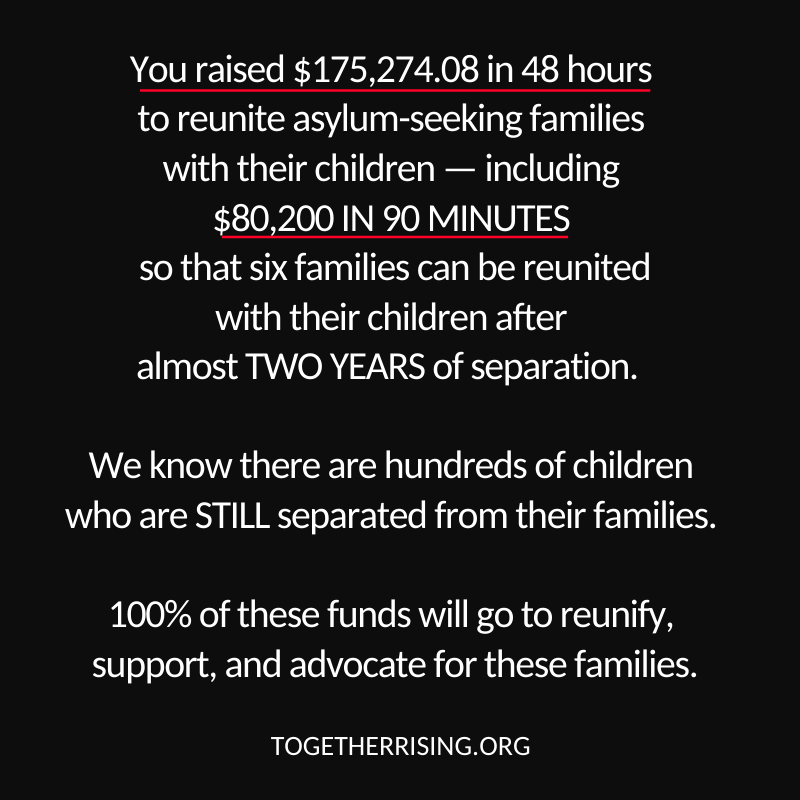 You raised $175,274.08 for separated families in 48 hours. Thank you.
Last week, you sent the funds needed to locate six families and coordinate their boarding a plane in Guatemala and returning to the United States so they could be reunited with their babies.
Those parents had been separated from their children for almost TWO YEARS.
A federal judge found that these families had been unlawfully deported from the United States while attempting to seek asylum and ordered that they be allowed to return to the US. The judge found that, in some cases, agents coerced parents into signing documents they didn't understand or convinced them asylum laws had changed. Some families were tricked into thinking they were signing deportation papers for themselves and their children, only to find out they were being deported alone.
This Tuesday evening, we asked you for $80,200 needed to help reunify and support those six families.
Within NINETY MINUTES, 1,905 of you had met that goal. You showed up once again to turn our collective heartbreak into action.
Your $80,200 will go to the immediate needs of the six families who arrived on Wednesday night -- including mental health services to help parents and children cope with the trauma of their long separation.
But you didn't stop there, you continued to give. In 48 hours, you gave a total of $175,274.08. There are hundreds of children who are still separated from their families. The additional funds will go to reunifying, supporting, and advocating for separated families.
In the coming months, alongside our tireless partners at Al Otro Lado, we will continue to stand with these families.
You made these reunions possible.
We are building the world we believe in. Let's believe and build together forever.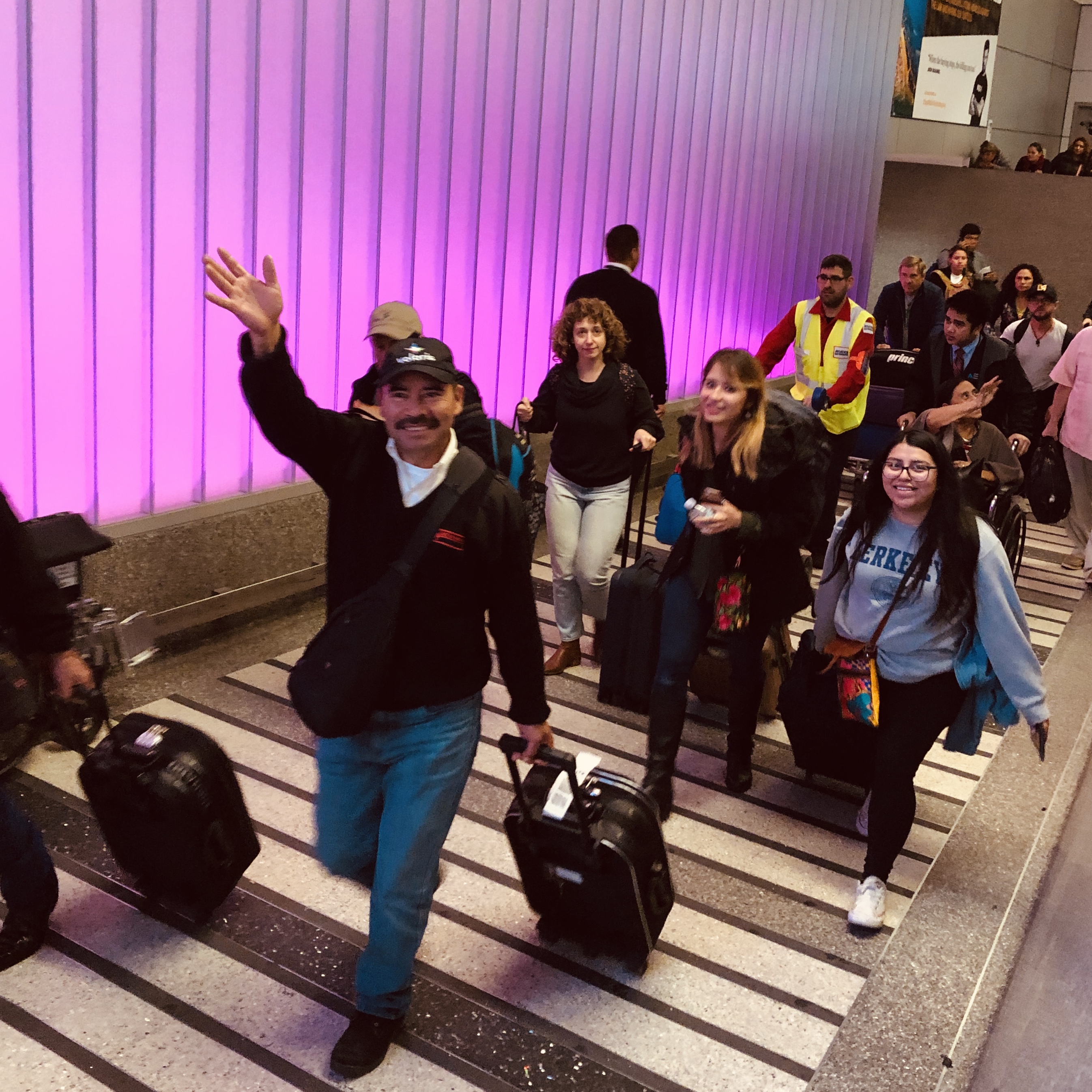 The parents landed safely last night!!!
Because of you, after almost TWO YEARS of separation, these parents were able to fly back to the US to be reunited with their babies.
Some were able to hug their babies at the airport while others are one step closer.
YOU made these reunions possible.
We will update you more in the coming days.
Thank you for standing with these families. Thank you for not giving up.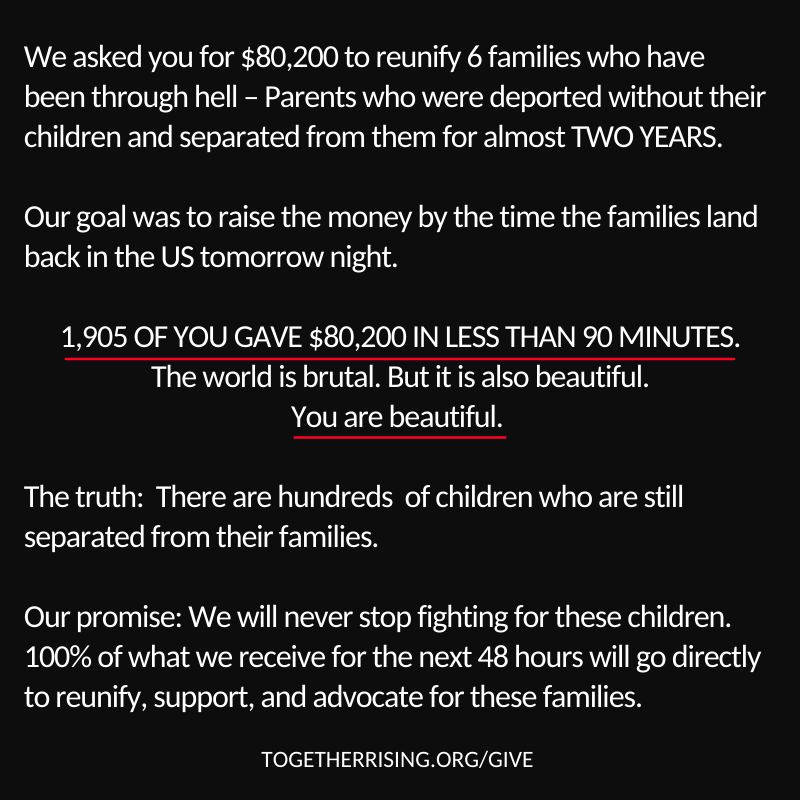 When these parents land tomorrow, we will be able to tell them:
"Last night, in anticipation of your arrival, strangers from all over this country and the world came together and gave of themselves so that your children might be in your arms again. Since so many of them stood with you: We have enough. We have enough to find your babies and help you begin again."
Thank you. Thank you. There is no community of givers like you on the planet. A community loving and brave enough to see the world as it is, and loving and brave enough to, together, build a world as we imagine it can be.
We at Together Rising will be working closely alongside these 6 precious families - along with our tireless partners at Al Otro Lado. We will update you as soon as it's responsible to do so.
We love you. We will be grateful forever.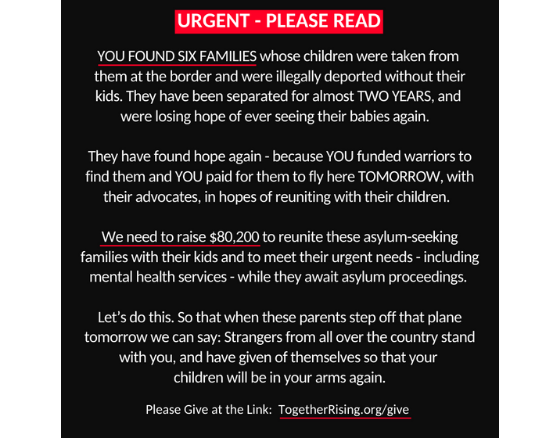 Remember last year when you – through Together Rising – stood vigil on the Border with 29 families to demand the return of the children who were taken from them?
Today, you are standing with six more asylum-seeking families whose children were taken from them, and were then illegally deported without them. These families have been separated for almost TWO YEARS and were losing hope they'd ever see their babies again.
They are finding hope again. Because you funded warriors on the ground with Al Otro Lado and Justice in Motion to find these six families, and you paid for flights so that, tomorrow morning, these six asylum-seeking families and their advocates will fly here to fight for their children.
You have already paid to locate these families and for their flights to return.
Tonight we are asking for your help in raising $80,200.
$80,200 is needed to reunite the families with their children (who are scattered all across the country), and to meet the families' urgent needs – including mental health services to help process the trauma of separation – while they await their asylum proceedings.
Our dream is to raise the $80,200 by the time these families – who have been through so much pain and loss – land Wednesday night.
After almost two years of an unimaginable nightmare, when they step off that plane, we want to be able to say: Strangers all over the country are standing with you, know that your children belong with you, and are willing to give so that your children may be in your arms again.
100% of what we receive from your tax-deductible gifts will go to advocate for, and reunite separated families, and to meet their urgent needs – including mental health support.  As always, we will report back to you.