Even before Hurricane Florence struck last month, Together Rising was already hard at work making sure we knew the best boots-on-the-ground helpers who could step in immediately after the storm's destruction.
Because of your generous monthly donations to Together Rising, we were able –in the direct aftermath of Florence's devastation — to deploy $25,000 worth of critical efforts in the hardest-hit parts of North Carolina. During what must have felt like a nightmare, your funds and help arrived through All Hands and Hearts – Smart Response just in time to make life easier for 149 North Carolina families.
Then after Hurricane Michael decimated parts of the Florida panhandle earlier this month, you funded another $25,000 in vital relief for our sisters and brothers in Florida.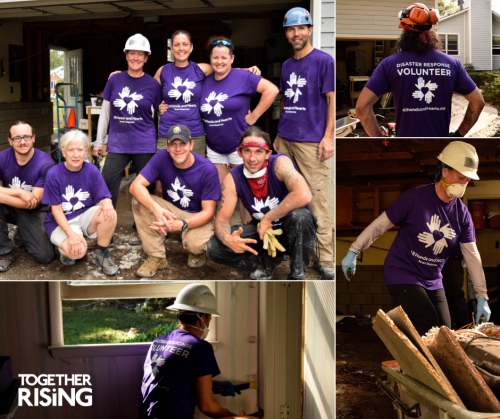 THANK YOU. These relief projects are made possible by our generous recurring donors who trust Together Rising with $5 a month (and up!), giving us the ability to respond immediately when crises strike. If you'd like to join us to support the healing, uplifting work of Together Rising, please go to: https://togetherrising.org/give/.