Please join us in this urgent call to action to support reproductive justice at TogetherRising.org/Give.
While Friday's Supreme Court decision about abortion access came as a small and momentary victory, we know that it is far too soon to breathe a sigh of relief.
Every day in this country, access to safe abortion and reproductive freedom comes under attack, and the Supreme Court's decision to send arguments back to the Court of Appeals for continued debate only highlights just how precarious these freedoms truly are.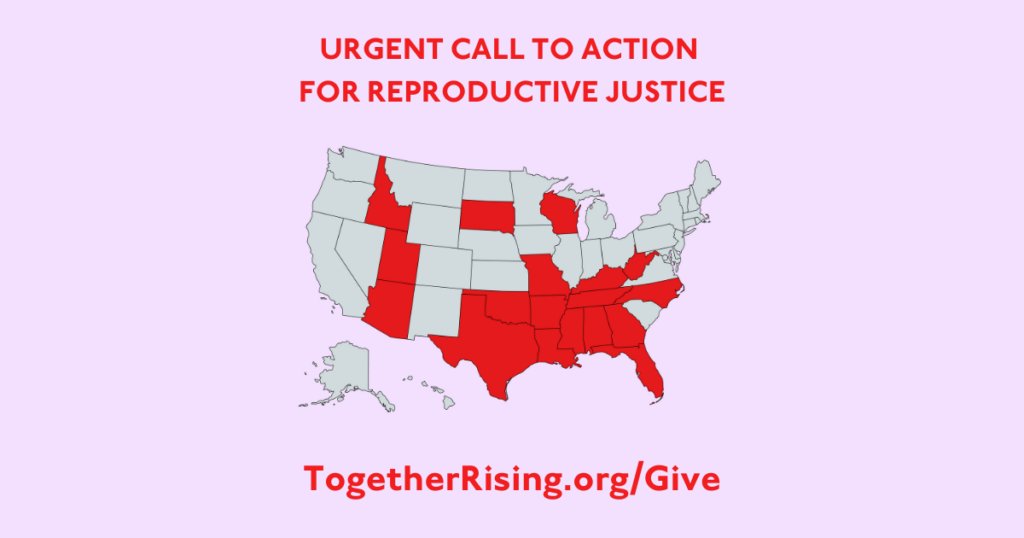 The push to limit our say and control over our own bodies is as strong and relentless as ever. But, we are strong and relentless too.
-We are relentless in our belief that bodily autonomy is a basic human right that must be protected and respected. 
-We are relentless in our belief that access to reproductive healthcare is a matter of justice and equity. 
-And we are relentless in our commitment to support organizations that are doing the hard work and leading the charge to fight for our freedoms – especially for those who cannot fight for themselves. 
Over the last year, Together Rising has invested $942,842.42 in nine partner organizations across the country to push for reproductive justice, including access to safe abortions—and we're just getting started.
Beginning today, we're doubling down on our efforts by coordinating with trusted partners to support work at the national, state, and local levels to ensure that everyone has access to the reproductive care that they need – even in states where that access is under fire.
And we can do even more with you by our side.
Please consider donating to this critical work at TogetherRising.org/Give. We'll deploy every penny received to our partners fighting to safeguard reproductive care, equity, and justice – including providing concrete help to ensure people can access safe abortion health care.
With love, fury, and relentless hope,
Together Rising