We believe in Middle Tennessee!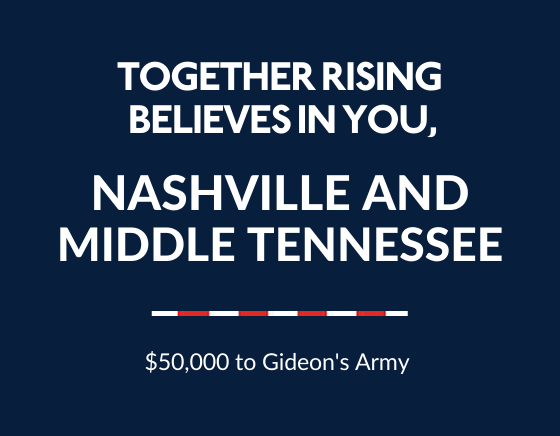 At Together Rising, we recommit again and again each day to love our sisters and brothers in crisis across this country and the globe.
A few days ago, devastating tornadoes tore through Nashville, killing at least 24 people, and leaving hundreds homeless.
As always, Together Rising immediately began looking for the local boots-on-the-ground warriors who are trusted, embedded and urgently working to heal the community. We found those grassroots heroes in Gideon's Army.
Within 30 minutes of the tornado's impact, Gideon's Army was on the ground assessing damage, meeting with families, delivering flashlights, and clearing roads. Within 7 hours, they coordinated with the community to open three disaster relief sites, rallied volunteers to secure donations, and created food collection and distribution systems for all three sites.
Today, through Together Rising, you are investing $50,000 in Gideon's Army so they can focus on emergency relief and long-term holistic community-based recovery in the aftermath of the devastation, including providing temporary housing and home repairs; food, water, energy and clean-up assistance; document replacement services; and school supplies, books, and educational expenses.
Today, you are sending this message to the resilient, proud, beautiful people of Nashville: We see you, we believe in you, we want you to feel our love as we watch you rise.
To our tireless, devoted community of givers: Thank you for believing in us, so we can invest in Nashville and countless families and communities in crisis. Because you decide again and again whom you love, we are able to send your love everywhere.
Love,
G & Together Rising