We grieve with the Sunset Park community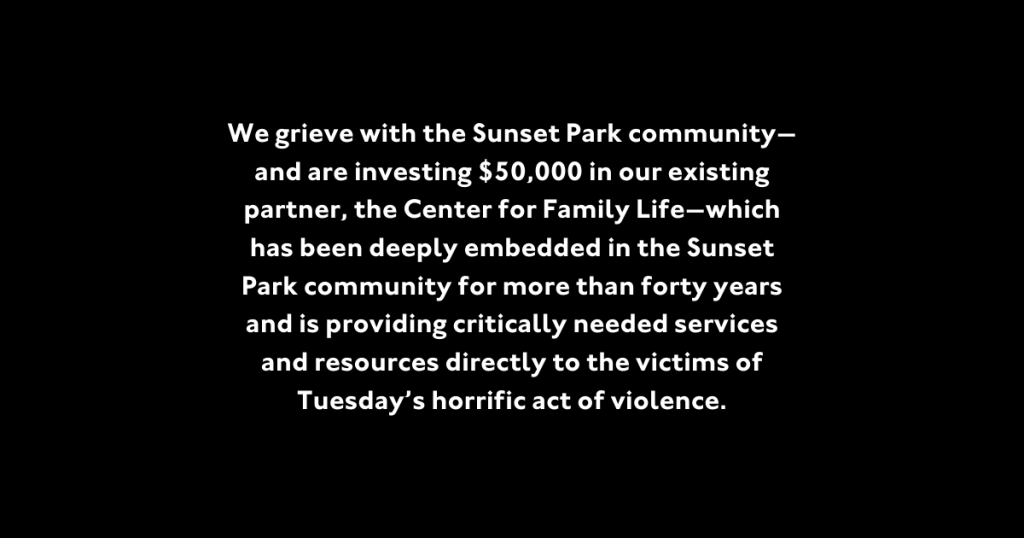 On Tuesday, during rush hour as children were on their way to school and adults to work, a gunman opened fire in a subway car in the Sunset Park neighborhood of Brooklyn in New York City. As of this writing, thirty people have been reported injured. At least ten were struck by gunfire, including several children. This community has endured so much in recent years–compounded by this terrifying incident.
Local activists have emphasized that the subway is the most affordable form of transportation available to many Sunset Park residents, a quarter of whom have household incomes that fall below the federal poverty line.
One of the local organizations responding is our existing partner, The Center for Family Life, an organization that has been deeply embedded in the Sunset Park community for more than 40 years. Their office is four blocks from where the shooting took place.
In their own words, The Center for Family life "partner[s] with the community to provide access to resources, economic development and opportunities for personal growth and the development of interpersonal relationships that sustain and nurture families." From adult and youth employment programs, to family counseling, to recreational programs at local schools, to providing emergency food, and so much more, they are deeply invested in helping families and children thrive.
Together Rising first invested $50,000 in The Center for Family Life in November of last year to support their vital immigrant family case management and adult employment readiness programs.
We grieve with the Sunset Park community—and are investing $50,000 in The Center for Family Life—whose team is providing critically needed services and resources directly to the victims of Tuesday's horrific act of violence.