To LGBTQIA2S+ youth in Florida and everywhere:
You are beloved.
You deserve to be celebrated and cherished—not singled out or stigmatized.
You deserve to be fully, beautifully, wholeheartedly, and authentically yourselves.
You are perfect.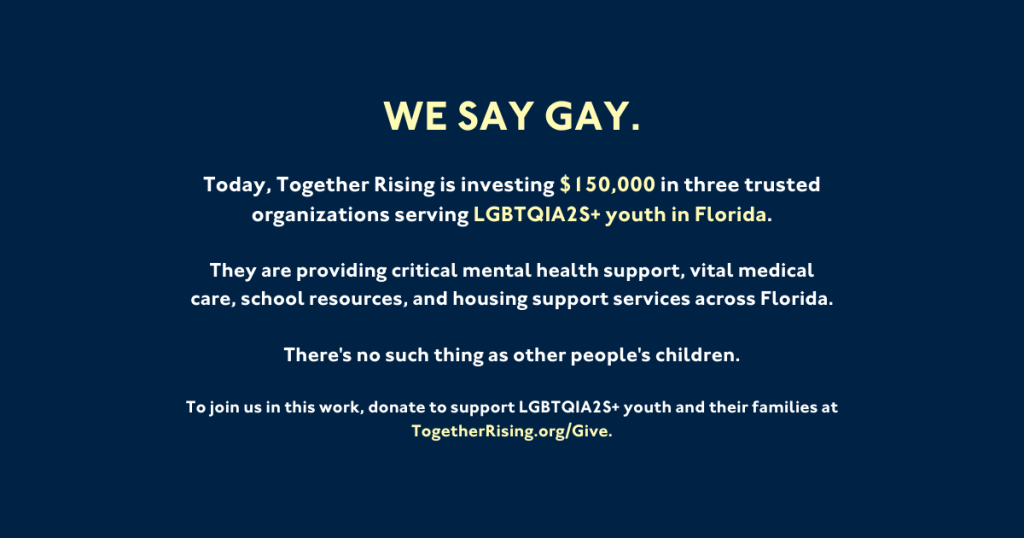 Today, in response to the attack on queer families in Florida, Together Rising is investing $150,000 in three trusted organizations that are creating community and caring for  LGBTQIA2S+ youth across Florida. 
They are providing critical mental health support, vital medical care, school resources, and housing support services.
Compass Community Center is a queer-led, deeply-respected community center in Palm Beach County that serves LGBTQ+ youth, starting at age 3. From mental and physical health services, to peer support groups, to HIV prevention, they are caring for youth in an all encompassing way. Recently, they hosted the superintendent of Palm Beach County Schools and LGBTQ+ youth who shared their stories of their experience in schools with him.
JASMYN is a women-led, nonprofit serving LGBTQ+ youth ages 13 to 29 in Jacksonville, Florida. They support teens interested in creating their own gender and sexuality alliance at school, as well as offer peer support online and in-person. JASMYN also offers a full spectrum of direct services: sexual health education, HIV testing and care, mental health support and counseling services, housing, drop-in food, hygiene, and laundry access.
Zebra Coalition is an organization in Orlando and Kissimmee that assists young people ages 13 to 24 facing homelessness, bullying, isolation from their families, physical and sexual abuse and substance use with individualized programs to guide them to recovery and stability.
We know that the rights and safety of these precious children are being attacked not just in Florida and Texas but all across the country.
We stand with them and the LGBTQ+ community, and we will keep investing in these kids and their families.
Because there's no such thing as other people's children.
To join us in this vital work, please consider donating to support LGBTQ+ youth and their families at the link in our bio or via the button at TogetherRising.org/Give.