We support safe, accessible healthcare as a human right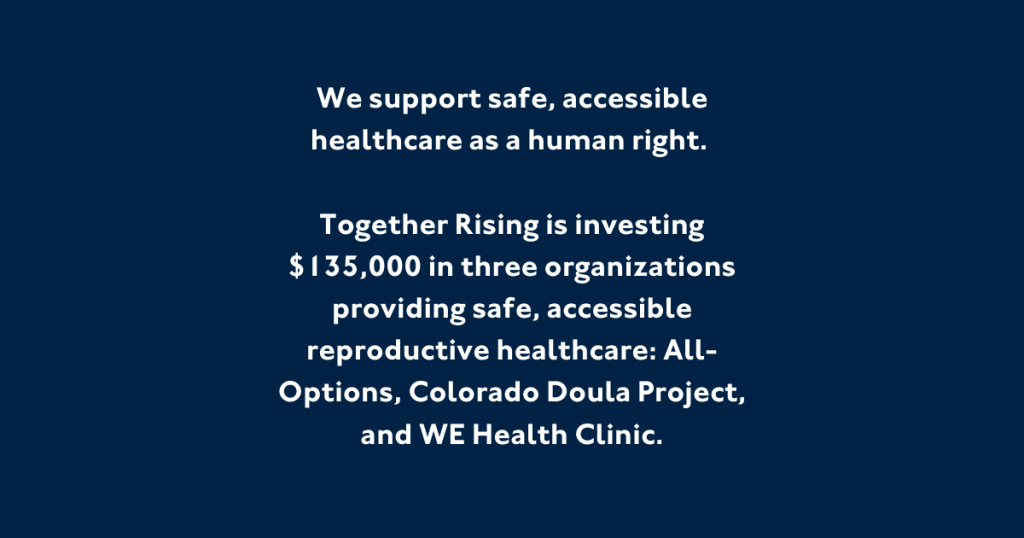 We support safe, accessible healthcare as a human right.
Today, we are investing $135,000 in three organizations that are working tirelessly to provide safe access to critically-needed reproductive healthcare: All-Options, Colorado Doula Project, and WE Health Clinic.
Queer and BIPOC-led, All-Options provides stigma-free, peer-based counseling and support to patients via a toll-free talkline available in all fifty states, every day of the year. At their resource center in Bloomington, Indiana, their team supports women and people who are pregnant in comprehensive and compassionate ways, including financial assistance for abortions and access to diapers, pregnancy tests, condoms, and menstrual products.
Queer and Latine-led, the Colorado Doula Project provides emotional, physical, logistical, and financial support to women and people accessing abortion care in the Denver-Boulder metro area. That support can include providing a place to stay, airport pickup/dropoff, groceries and other errands, childcare, and doula support during an in-clinic abortion, as needed by the client. Their own words say it best: "We will always be here for the people who need us." Funding for their work is needed now more than ever before, as demand continues to increase.
WE Health Clinic has been providing reproductive and sexual healthcare to patients in northern Minnesota for more than forty years. From breast cancer screenings, to gender-affirming hormone therapy, to in-clinic abortions, their team provides comprehensive care to patients not only from Minnesota, but also from neighboring states of Wisconsin, Michigan, and beyond. Funding for their work is also critically needed, as demand for their services continues to grow.
We stand with all who are fighting for safe, accessible healthcare as a human right.