We were made for such a time as this.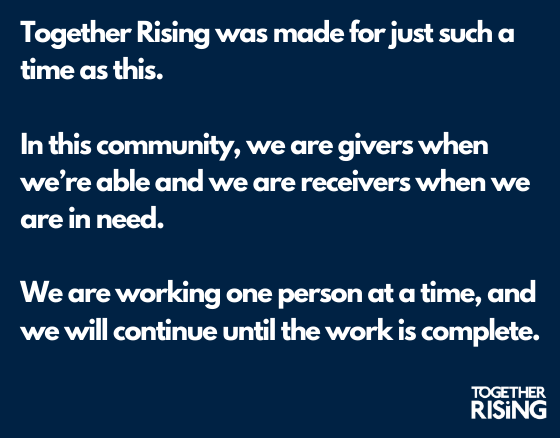 Life is hard right now. We are both alone and very much in this together.
We are losing our jobs, childcare, and ability to pay bills and provide for our families. We are losing people we love. This is very real.
Together Rising was made for just such a time as this. We are virtual first responders for individuals and families in crisis. We have spent the last decade helping people keep the lights on, pay rent, and feed their families.
So many thousands of you have been givers, enabling us to do this work, and that is a vital. The beauty of Together Rising is that we are givers when we're able and we are receivers when we are in need.
If you don't know where to turn right now, turn to Together Rising. Our Stewardship Team has been working tirelessly over the last week to review all applications of those of you who need help to get through this time. We are reading and working one person at a time, and we will continue to work until the work is complete.
We are going to get through this together, like we always have.
We belong to each other. That's how we've created this community over the last decade, and it is how we will be there for this community now -- and for however long it takes.
Donations to our COVID-19 work are supporting families struggling to pay rent, pay bills, and buy groceries following job losses due to the pandemic. Thank you to those who continue to show up for our sisters during this very difficult time.