We're all givers and receivers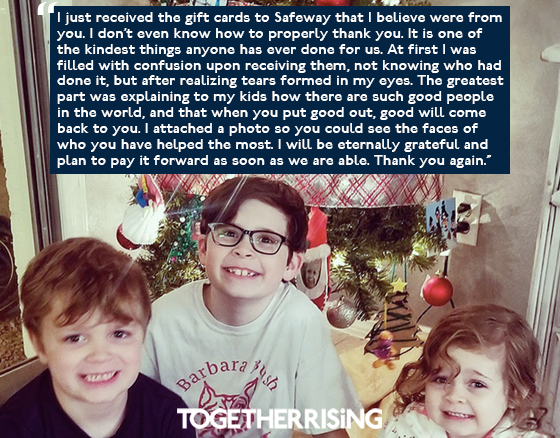 Maureen* had been a regular TEAM LOVE giver to Together Rising, always grateful to share what she could with people who needed a little extra.  However, when her husband, the sole income-earner for their family, was furloughed due to COVID-19, Maureen worried anxiously about paying bills and keeping food on the table for her three little ones.
Just as Maureen has shown up for other families over the last year through Together Rising, you showed up for her family by providing an entire month's worth of groceries. 
In a thank you note from Maureen to you, she shared that the best part of your gift was telling her kids that there are good people in the world. And that if you keep putting good into the world, it will come back to you.
To this beautiful, shows-up-no-matter-what Together Rising community: Thank you for not only being good people in this world, but also for coming together to put so much good out into the world. Together, we're all givers and receivers -- sometimes we need a little extra and sometimes we give a little extra -- but because of your collective love, we're ALWAYS there for each other.  Because we belong to each other. 
*Name has been changed to protect anonymity.