A Whole Lot of Love – Holiday Magic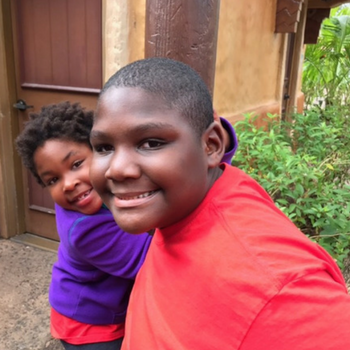 Do for one, what you wish you could do for everyone. – Andy Stanley
This past holiday season, Casey reached out to Together Rising.  Casey was having a holiday party, and instead of exchanging gifts together with her friends, she wanted to connect with a family to shower with love. Through the Holiday Hands program, we met Lalania, an adoptive mom of two amazing children, Elijah and Sadie, who were both born with extreme drug exposure in utero. As a result, Elijah had extreme brain bleeding, and the doctors were unsure if he would ever walk or talk. Today, Elijah is on the autistic spectrum and Lalania describes him as an "amazing young man – strong and funny and so talkative."  Sadie is a sweet girl and loves taking care of her brother. After a period of unemployment, Lalania struggled to pay her family's medical bills, leaving the budget scarce for holiday gifts.
The family received shoes as part of our Holiday Hands program, but our team at Together Rising was thrilled to get Casey's email offer.  We connected the family with Casey, and as a result, her party was able to send $650 worth of gift cards to the family for new clothes. With a little holiday magic, and a whole lot of love, we can truly make impacts in the lives of those around us.
If you'd like to donate to the healing, uplifting work of Together Rising, please go to: https://togetherrising.org/give/.