You are bringing safe water to Jackson, Mississippi through a $100,000 investment in our deeply embedded, Black-led partner, Cooperation Jackson
Kids didn't have drinking water in 91 degree heat.
School couldn't start.
Toilets couldn't flush.
Dishes couldn't be washed.
Those are just a few of the countless ways the water system's collapse has devastated families. Many had no water at all. Some had water, but it wasn't pressurized and remained brown—filled with grit—and unsafe for drinking or cooking, as it had been for over a month.
While pressure was restored Monday, more than 150,000 people are still without safe water. It is unclear when it will return, due to the water treatment plant needing critical repairs.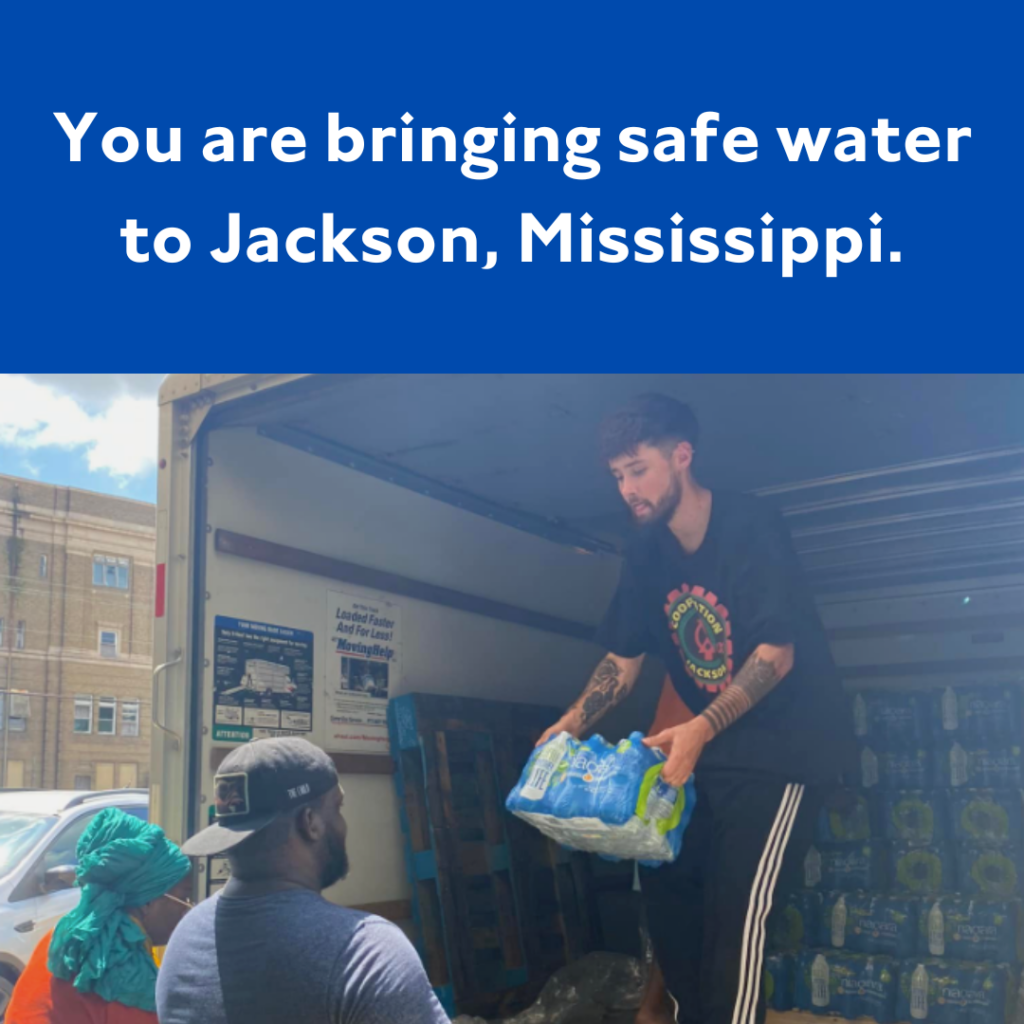 Driven by climate change, the flooding of the Pearl River was the catalyst for the city's aging water system to collapse. But why was the system so weak? Local community activists, Cooperation Jackson included, are urging us to understand that water infrastructure has been crumbling for decades. This problem is not new—it was ignored due to a lack of outrage, will, prioritization, and investment at local, state, and federal levels.
In a city in which 82% of residents are Black, the deplorable way the water system has been allowed to deteriorate due to divestment, making it especially vulnerable, is environmental racism.
"What we are calling out in this moment is that is unacceptable. That is a crime on everyone's humanity," says Joshua Dedmond, a community organizer with Cooperation Jackson.
Here at Together Rising, we are listening. That's why you have invested $100,000—enough to support a month of water distribution, as well as Cooperation Jackson's push for structural change.
They are so deeply embedded that they have already organized three rounds of water distribution, focusing on the most vulnerable, including elderly and unhoused community members.
Their team is committed—just as they have been for eight years—for the days, months, and years to come to ensure safe water for all.
Thank you to TEAM LOVE for allowing us to deploy urgent funds when families need it most.